Customer feedback is the process by which product managers, SME owners, or customer support teams collect useful opinion from buyers. It is an essential tool in comprehending the needs and behaviour of users regarding goods or services provided by a specific brand. Listening to communication from customers enables product managers to get down to the reasons behind declines or increases in sales, product/service usage issues, misunderstanding of company policies, payment problems, and so forth.
Product managers are all about customers, and feedback is particularly useful because it enables them to respond to the issues that their customers need to be solved. Apart from that, it allows product managers to develop new products, identify areas that need improvement, and create new product functionality. That said, here is a list of other reasons why customer feedback is essential:
It helps product managers to gauge consumer satisfaction.

It shows customers that a brand values their opinions and is not after their money only.

Collecting customer feedback allows product managers to better customer experience, and in turn, boost customer loyalty.

Customer feedback enables a brand to access information that customers share regarding its products or services. With this, the business can act accordingly to ensure that only favourable reviews and opinions are shared.

By analyzing customer feedback, product managers get actionable takeaways for their companies.
Product managers should always aim to provide their customers with excellent user experience while developing a stable relationship with them at the same time. To achieve this, they need to gather useful insight which will see them make necessary improvements on their products or services. So, on that note, here are some excellent ways of collecting feedback from customers:
Idea Communities
Brands that have been in the market for some time are bound to have a community of advocates/supporters. It is vital for product managers to identify and reach out to these loyalists to get their input whenever a new product is launched. It is easy to set up such communities on company/business websites or social networks and invite users to join whenever. By setting up this community, a product manager will be capable of gathering useful information from a group of people that is willing to share its experiences.  
Apple's Support Communities is an excellent example of an active idea community. On any day, staff from Apple can scheme through these forums to see the customer feedback on various products by the company. Other than that, users can help their counterparts overcome some issues and know more about new features on their devices.
Focus Groups
A focus group consists of several people whose reactions are observed in open or guided discussions. To ensure that the data is collected is unbiased, these groups should be demographically diverse. The forum intends to figure out the reaction that is to be expected from a wider population.
Focus groups entail interviews where customers are asked about their particular attitudes, opinions, or perceptions on specific products or services. During the exercise, queries are asked in an interactive setting where the respondents can freely talk to other participants in the open. All the while, researchers and product managers record the session or take notes for future analysis.
Social Media
Today, many businesses have a presence on social media. Brands that are using this tool for the sole reason of announcing new products are not leveraging its true power. Social media platforms provide an audience for a company's ideas, and by getting feedback from it, the brand makes the customers feel that they were involved in the development process. In turn, this boosts brand loyalty and increases the customer base for any new product the brand is planning on introducing to the market.
Product managers can ask any useful questions on social media. For instance, if a brand specializes in ice cream, it could present its customers with a pop quiz to help decide on the most popular flavour. Then, the business can go on to avail the same in the market because it resonates most with the target market.
Surveys
Product managers can use surveys to get customer opinions in a cheap and scalable way. The information collected from this process can help in understanding a hypothesis or turning existing assumptions to facts. To ensure that a survey is structured well, it is essential to comprehend how one is going to use the gathered information.
Analytics
With analytics, product managers can easily track customer behavior. They provide in-depth insight on how each customer interacts with a website and how they are using a particular product.
Source: Hotjar
Customer Support Software
In today's cut-throat market, it is crucial for companies to have their sites and even applications. Better yet, project managers can combine both of these things for more success in collecting product feedback. For instance, an app such as the HelpCrunch Live Chat feature can be easily embedded to a website and is excellent for gathering customer insights.
It is a unique way to improve your customer communication strategy as it allows you to communicate with them in real-time, thus ensuring swift customer support.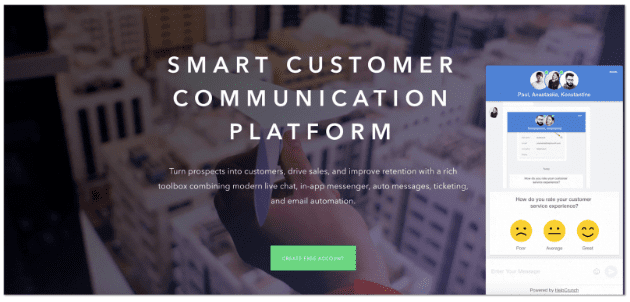 Sign up for HelpCrunch today and start collecting customer feedback! Subscribing is free; no credit card data required.
Over to you
To wrap up, be sure to use the methods highlighted here to gather useful feedback on your products or services. And to get the most out of the process, you need to settle on an appropriate approach for the specific phase of the product's development lifecycle.