"With the help of Waydev we were able to learn a lot in terms of how work progresses and how work gets done." – Vaibhav Deshpande, VP of Software Development at Nowcom.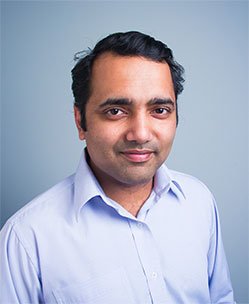 Vaibhav's role includes providing tools, infrastructure, and technical guidance to ensure quality software development for Nowcom. Founded in 1996, Nowcom is the leading provider of Internet applications and business solutions for the used car market. Nowcom employs over 300 engineers in their offices in California, Philippines, and India.
They are one of our first customers, and it's their third year with us, so we decided to ask them how is their experience with Waydev after 3 years.
After three years of using Waydev, what are the biggest benefits you saw?
Before Waydev, we would set up our capacity and our system. We would assign some work, based on the capacity that our teams had. Then, we would check in with them periodically in the Daily Stand-ups and we would come to know that the capacity was not enough to finish the work that was given because there were some setbacks.
That was the problem that we were facing. With Waydev, we get to see what our teams are checking in, and what tasks are they completing.
For example, we now have an overview of the commits for a particular feature. That means that we reduce the time remaining on the task on a regular basis.
How are you looking at the performance of your teams?
People are not getting to the work in a timely manner, ahead of time, so we need to have a conversation with them. We need to find out why they're not able to do that and see if there are any setbacks, problems, or hurdles so that we can go ahead and work with them to resolve these issues.
Usually, what would happen is people would say: "We could not do this because there were too many meetings." I ran into this problem. And I was trying to solve this problem and I was not able to figure out the solution.
With Waydev, we got the information that we needed. For example, that the commits are not happening in time or what is the size of the commit, and what was completed as a result. We got this information and we were able to say: "Look at this team's report. They were supposed to finish a specific amount of work within a period of time, but they did not. That means that they are facing some challenges. Let's go talk to them." That encourages the managers and the directors to go have a conversation with them and try to resolve the problem.
What Metrics do you follow in Waydev to measure success?
We are looking at projects delivered and the quality of work. And we make sure that all the checks and balances are put in place and addressed.
With the help of Waydev, we were able to learn a lot in terms of how work progresses and how work gets done. Before Waydev we saw that a lot of work was getting done towards the end of the sprint and a lot of commits would happen towards the end of the sprint. We are able to pull that throughout the sprint rather than at the end of the sprint. That helped us in terms of delivering successful projects.
But if you just ask me for the metrics that I look at, I do look at the utilization of other developers. You need to make sure that they are properly utilized.
As a VP of Engineering, how do you measure the performance of your engineering managers?
Let's say a feature was assigned. For example, you are the developer and I, the manager. If I assign a feature to you, I've documented everything that needs to be implemented in that feature and in my mind, the work that needs to be done is fairly straightforward. But for you, it was not. Or maybe I was wrong. And you implemented something which is much more involved and much larger than what I had expected. Then, there's a problem.
So in that case what I have my managers do is – whenever they have a stand‑up meeting or a team meeting, I ask them to look at the commits that people have made. And one thing that Waydev does, is it shows you, for a particular feature, the size of the commits, whether it is too big or too small. We'll be able to say – "For this particular feature, we did not expect this big commit. So why did it happen?"
That should spur the question, which should spur a discussion with the team. Then, correct the course of development before it gets too late.
The team understood a feature in a certain way and they would implement that feature in that way. The moment the first commit happens, if they didn't understand it correctly and I'm able to take a look at it, I can correct the course and I save a lot of time. That's where Waydev comes in and helps the managers to make sure that everybody stays in their course and delivers better.
Before the pandemic, we all used to work from the office. We had the flexibility of working from home, but not for an entire month. If you had a problem or if you had to take care of family or whatever reason, you were given the flexibility to work from home, but during the pandemic, that changed completely.
Especially our people in the Philippines, cause they would travel to work, and they would spend almost four hours every day traveling to get to work and to go back home. So that's four active hours of the day, wasted with commuting. With the pandemic, all of that changed.
Whether we liked it or not, we all had to go remote. We did see that as a result of the utilization of developers. It was really good because they didn't have to travel as much and they were not tired. They were able to get to work, and deliver. We could see that because we were measuring their output. We realized that it makes sense for us to continue working like this.
We do have a few people who come to work on on a weekly basis. Especially the directors and above. They come like twice, three times a week, but I saw the times they're actually working and it's working very well.