Try our essential features and start tracking your software development projects:
Work Log – Zoom into commit and pull request activity to eliminate guesswork
Sprints – Identify capacity issues and scope creep
Reports History – Weekly and monthly email reports into a singular view
Project Timeline – Understand how work focus and volume modify over time
Work Log
As a manager, it's important to know how everyone is doing individually and as a team. Managing big development teams is no walk in the park. You have to juggle several activities, join long meetings, lead unproductive stand-ups, and then hopefully, get some work done. Gain a bird's eye view of your team's output and work habits.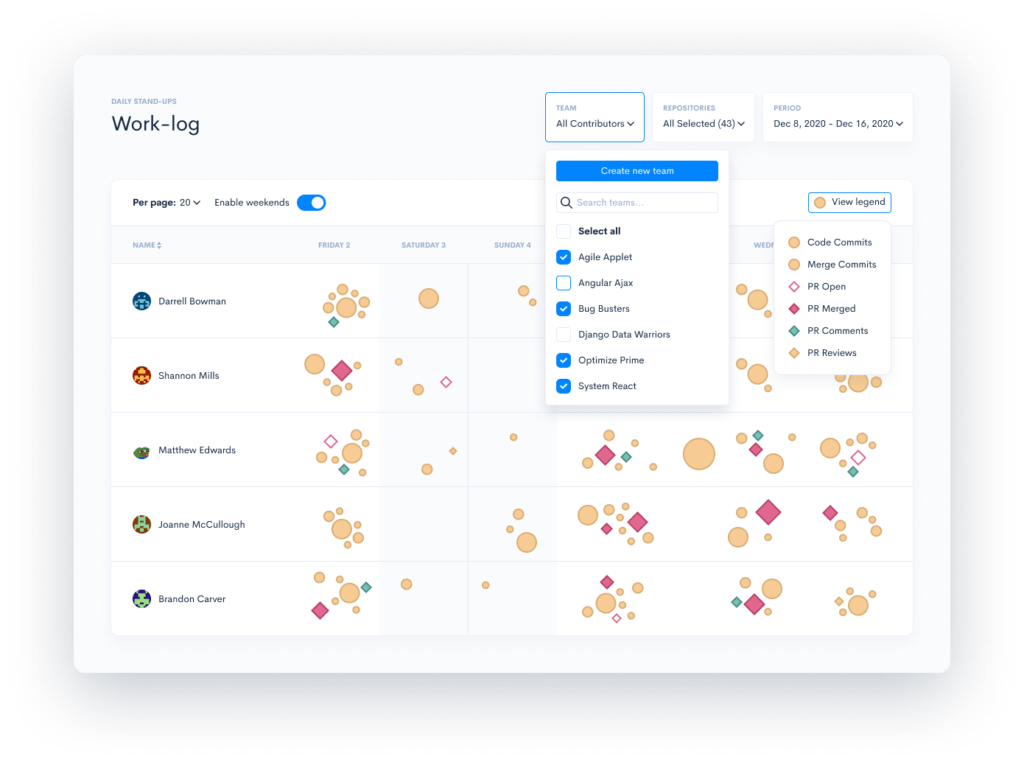 How to use the Work Log
The Work Log report helps engineering managers make decisions backed by data, set expectations proactively, and help their team improve over time.
The Work Log helps managers gain visibility into their onboarding process, understand where their team is focusing their attention, or notice when there's an unexpected spike in activity.
As you can see, the Work Log is a powerful new way to manage your engineering team more effectively. Use it to:
Visualize the interpersonal dynamics and patterns in a team
Identify bottlenecks at a glance
Increase momentum and deliver faster, with clear expectations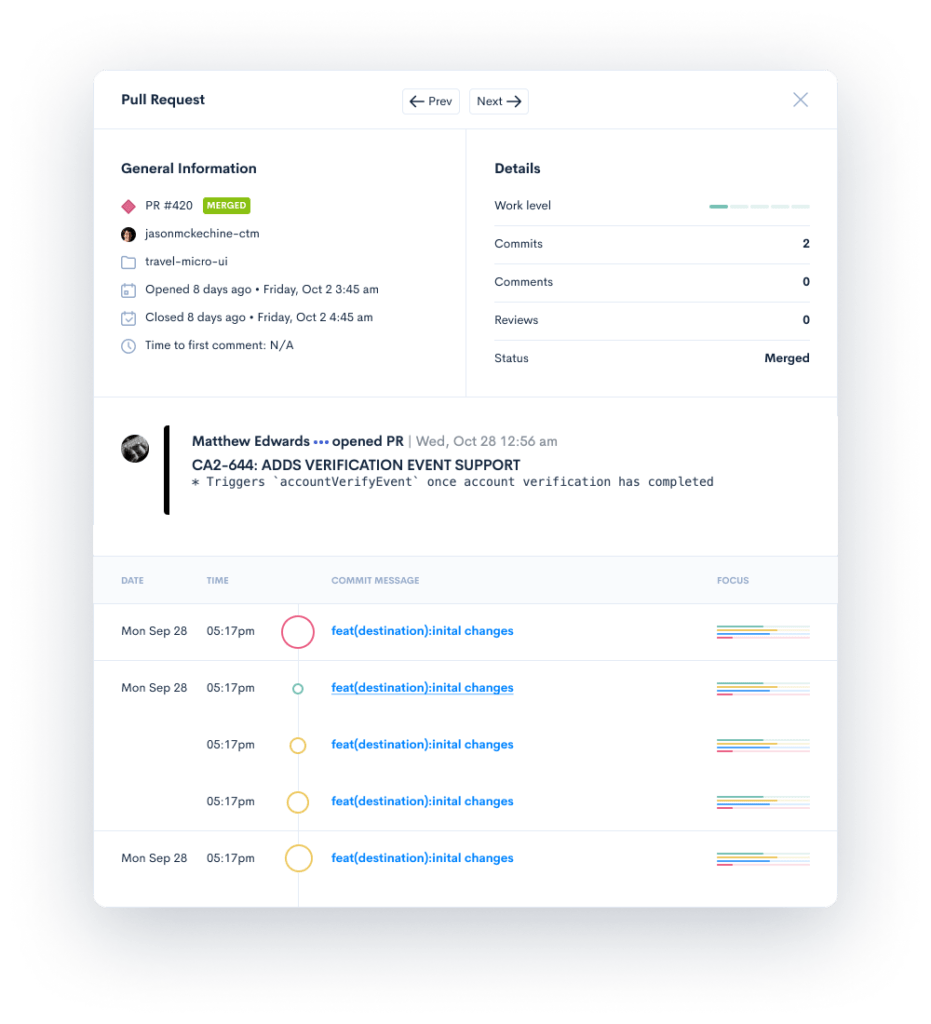 Click any item in the Work Log report to zoom in and find out valuable information, such as:
The work focus
The commit size
The commit message
The time of execution
Pull request reviews
Pull request comments
The time to first comment
The status of the pull request
The commit timeline of the pull request
The repository where the work was done
Additionally you can:
Navigate to an engineer's Developer Summary profile by clicking on their name & avatar in the Work Log
Access your commit in the Git provider by clicking the 'Go to Commit/PR' button in the zoomed-in view of the Work Log
Sprints
Keep a pulse on your sprint progress. Visualize and mitigate sprint risk using our forecast model.
The Sprints feature can be found in the Daily Stand-Ups submenu and provides an overview of your active sprints. It helps you visualize whether your sprint is at risk, where team members may be over capacity, or whether they are falling behind with work. Keep a pulse on your sprint progress. Visualize and mitigate sprint risk using our forecast model. Identify capacity issues and scope creep.
How to use the Sprints feature
The red bar indicates the current day in relation to the sprint, while the green bar points out the sprint progress in relation to the elapsed time from the sprint start. We gather evidence from multiple data points in order to provide a forecast of your sprint risk.
The Issues list, situated below the sprint risk forecast comprises all the Issues in the sprint and you can view:
priorities
identifiers
assignees
titles
types
status
duration
and story points.
If there is no avatar next to the identifier, it means that the Issue is unassigned.
You can view the Open Issues, Closed Issues, and Issues that Need Attention. You can sort the table by identifier, status, time in progress, and story points.
You can select another team by clicking on the team name on the upper left side of the page.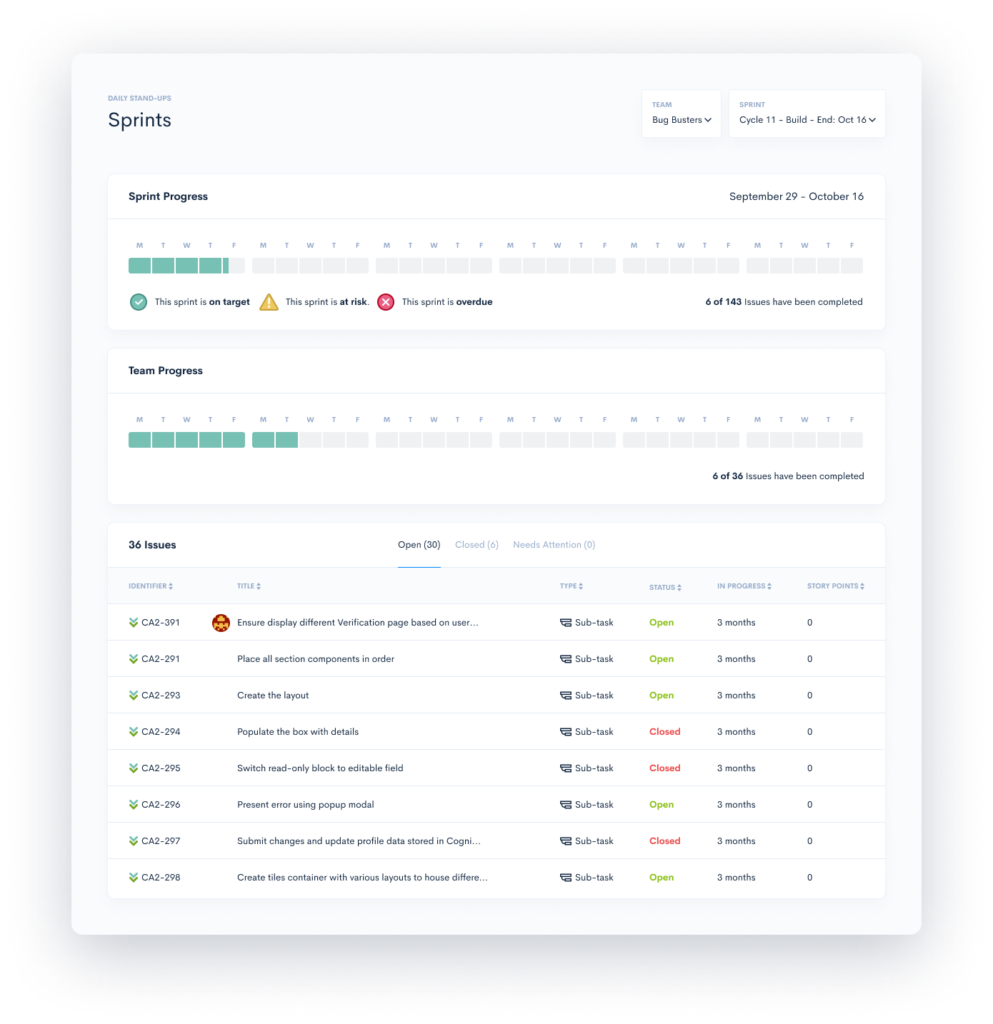 Reports History
Your weekly and monthly reports are all stored and can be found in one place. You can choose to view or download them, so you needn't worry about going through your email to find a report.
You can sort reports by team and period. On the rightmost side of the page, you can either view the report or download it as a PDF.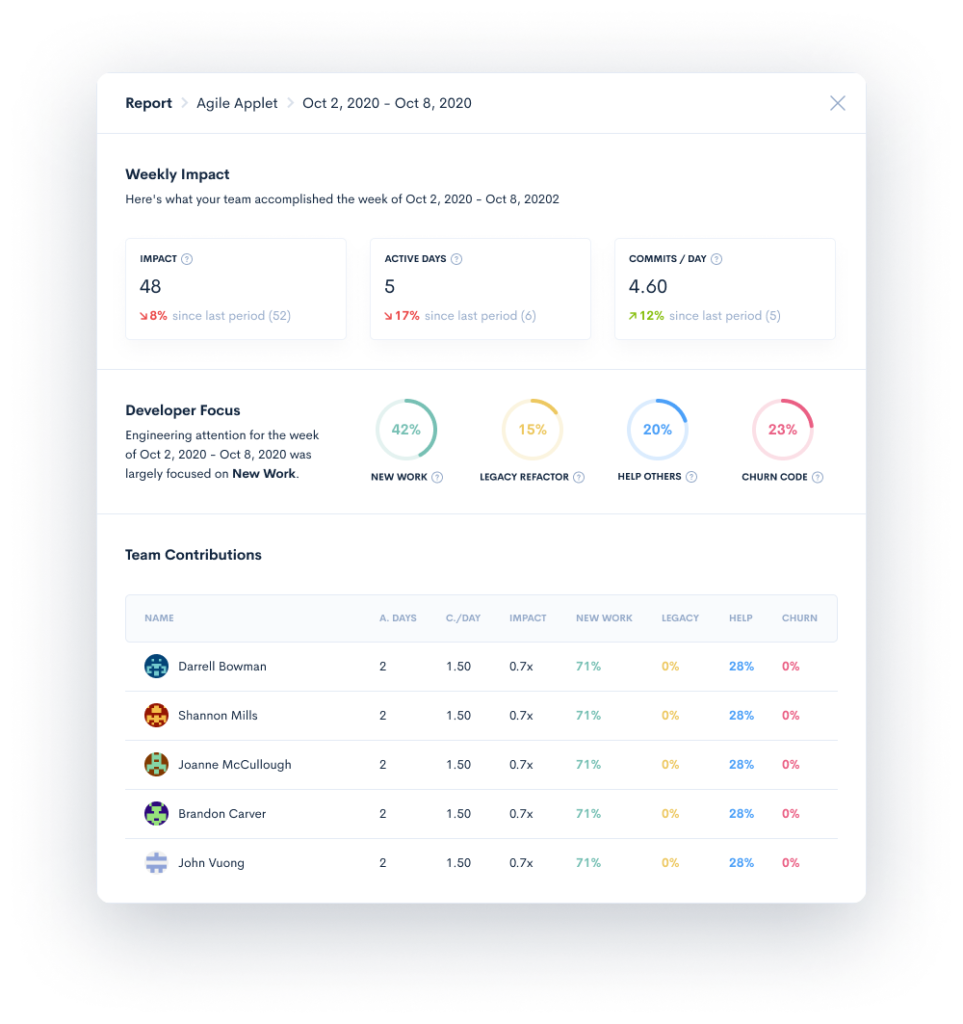 Project Timeline
Find out where your engineers' work focus is. View how events impacted your team's performance over time and direct your data-driven decisions.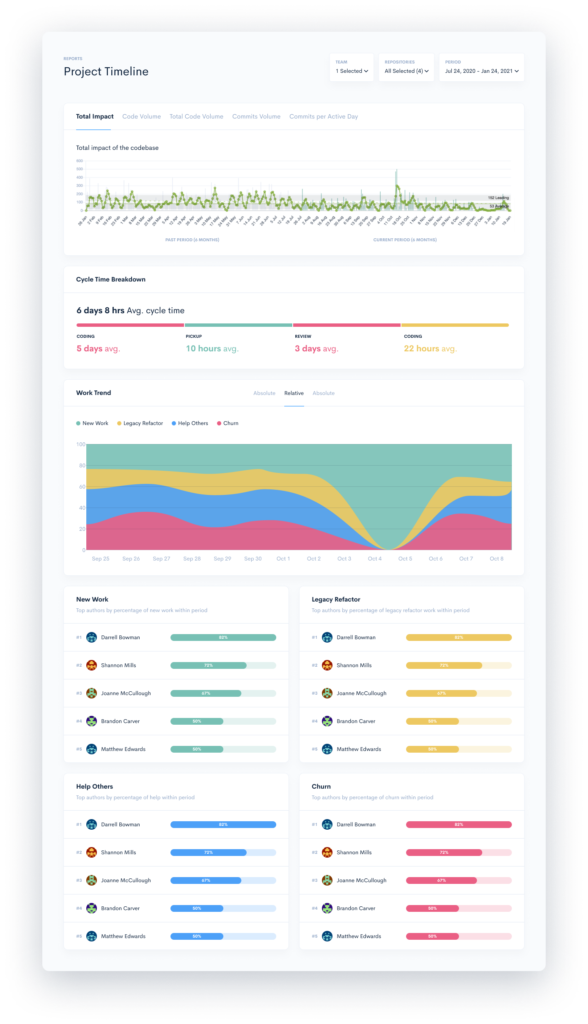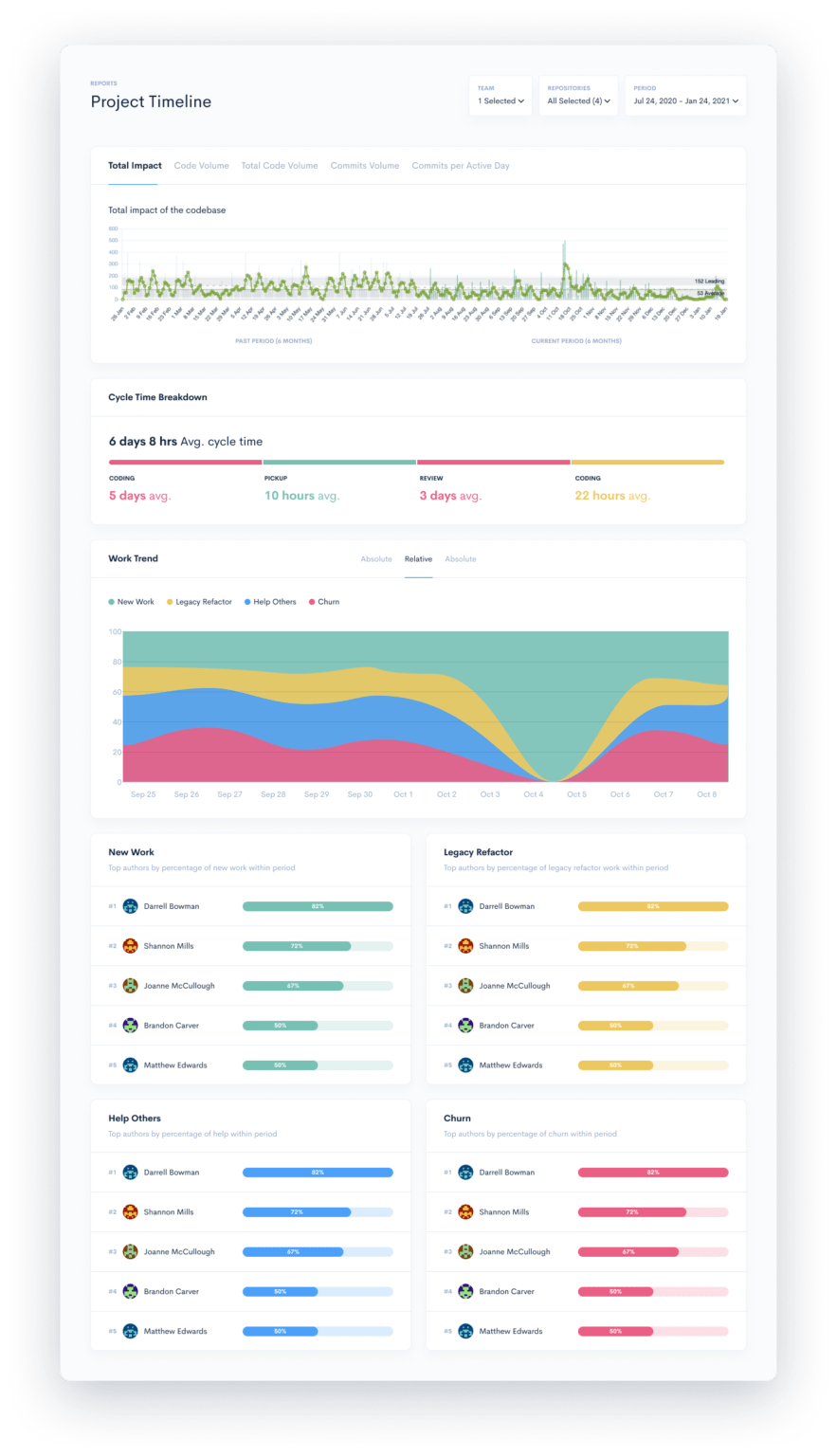 How to use the Project Timeline Feature
The Project Timeline helps you visualize how teams are doing relative to other teams, relative to industry benchmarks, and relative to your own trends, by using four metrics that customers find most actionable in the code-based activity. These metrics are:
Commits per Active Day represents the average number of commits per team per active day (a day when an engineer checks in code)
Commits Volume, which quantifies the number of commits a team created in a day
Total Impact, which shows you the total impact of the codebase in a day
Code Volume, which represents the raw number of lines of code changed in the codebase
In the Project Timeline, you can visualize how those metrics are trending during the sprint or over the trailing week, month, quarter, 6-month period, or a custom time frame.
Commits per Active Day
Commits per Active Day measures the average number of commits per active author per active day. If you consistently see that your team had several commits every day, this means that they'd been working almost every day of the week, including weekends. The team may have too much on their plate, and it's time for some expectation, realignment upwards in the work funnel. This is worth making a note of before a retrospective begins so it can surface tactfully into your team discussion.
On the other hand, if the Commits per Active Day is unusually low for the team compared to prior periods, that might be a signal that something outside the normal delivery process is slowing them down.
Total Impact metric
Total Impact helps you and your team understand the general complexity of changes that your team is moving forward in your product.
The Project Timeline will help you and your team quickly see signals of process blockers affecting the health of your software development process during conversations in your retrospectives. Use this data to generate an open conversation around team-led expectations versus actuals to provide a platform for innovative ideas that otherwise may have passed with the agenda items.
This report provides a view of how work trend evolved over time. Use this visualization to spot any irregularities and spikes, such as high spikes of Churn.
You can also see the top performers for each metric:
New Work
Legacy Refactor
Help Others
Churn
Are you ready to improve your software development tracking system?
With Waydev's tracking features it is now easy to keep a pulse on your your engineers' performance through weekly and monthly detailed reports.