A board meeting represents a formal gathering where all board members and high-level executives come together to discuss how the business is going. This entails assessing what is the company's strategy and how it's applied, but also reviewing performance and financial aspects. Board meetings usually happen once a month or quarterly, and going in-depth with complex data can ensure that the company stays on track with its goals, costs and overall vision.
Board meetings can sometimes seem only a formality to present the status of the ongoing projects. But in fact they can be very complex, with board members asking a lot of questions and wanting to know all the facts and details about the technological aspects and the engineering process. As a board member or executive of a tech organization, attending board meetings is an important part of your role. These meetings provide an opportunity to stay informed about the company's performance, strategy, and direction. They also allow you to provide input and guidance to help shape the company's future.
Communication between board members and high-level executives is crucial in order to see where your business stands and what opportunities for growth emerge over time. Discussing strategies and financial aspects is a big part of board meetings and in a tech organization, these relate very much to technology. Staying on top of changes within the industry and anticipating possible pitfalls such as new disruptive technologies is crucial – and a board meeting is the perfect opportunity to bring focus to these matters. But all these projections and assessments need to be backed up by exact data.

Waydev can give you complex data regarding what your teams are doing, the status and progress of the workload, all without manual input from engineers or managers. You can also extract comprehensive reports over the project's financial status, resource planning, and many custom reports. All this information is crucial for a successful board meeting, where questions about the status quo arise and need to be addressed. Remember that a solid business plan is based on facts and collecting exact data constantly through all the project's stages, not just about assumptions or projections.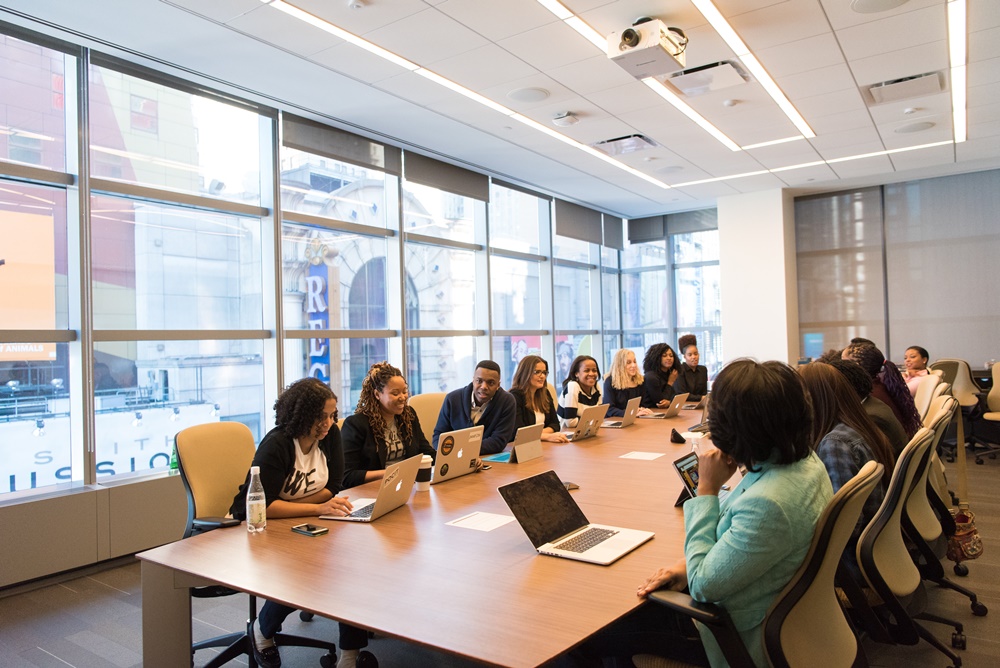 What Is the Main Goal of a Board Meeting?
While board meetings may seem like an opportunity to only present results over a period of time, the questions and points at issue that arise here can be the key to driving the business forward. Asking the right question can lead to surprising results – you can find opportunities for improvement or even breakthroughs for the company's long term success and growth.
A fruitful board meeting needs to have certain elements that challenge a tech business' limitations and linearity and that can push things to the next level. Don't settle for the superficial data, but really go in-depth to understand where your business' strong points are and where adjustments are needed. Staying on top of things can also reveal weak points and anticipate potential crises – always make sure you have solutions and protocols in place to quickly address crisis moments.
The main goal of a board meeting in tech companies is to provide a forum for board members to stay informed about the company's performance, strategy, and direction. These meetings allow board members to discuss important issues and provide input and guidance to help shape the company's future.To achieve this, board members should be inquisitive and eager to learn where things stand within the company. This means finding the ins and outs of the short and long-term strategy, financial planning, employees' satisfaction rate and much more. As a VP of engineering or a CTO in charge of the software development department, you need to have a global vision over where your company is at, so be prepared to ask questions or to answer them in order to promote completing the full image (and bring concrete data that supports that).
Promoting the importance of technological innovation for the company's overall success is an idea that CTOs or CIOs should be putting on the board meeting agenda. Take the opportunity to present to the board how a savvy technological vision can enhance workflow and overall efficiency, and reduce costs of everyday operations. The standard board meetings sometimes only focus on preserving the status quo, but challenging boundaries in order to find new opportunities for growth can also be part of the discussion – sometimes this means proposing new business models or new revenue sources.
How to Conduct a Successful Board Meeting
Depending on the nature of the company (a long-standing company or a start-up), a board meeting may be very formal or with a more practical approach. The procedure generally entails bringing together the board members, high-level executives and guests in a previously announced date – this is usually once a month, but it can also be quarterly.
The meeting entails discussing the general status of the company or projects in motions and financial aspects. The objectives and points to be addressed may be previously established, but new subjects can arise during the meeting. Many times, decisions must be made regarding costs, investments, or where to change things up, and this is done by having the board members vote on these specific issues.
But voting can take place only when quorum is achieved, otherwise, the decisions made during the voting process are invalid. Quorum means that a majority of the voting members or shareholders must be present. This percentage is usually set by each organization, but you also have to take into account state laws that require a minimum number so that quorum is attained.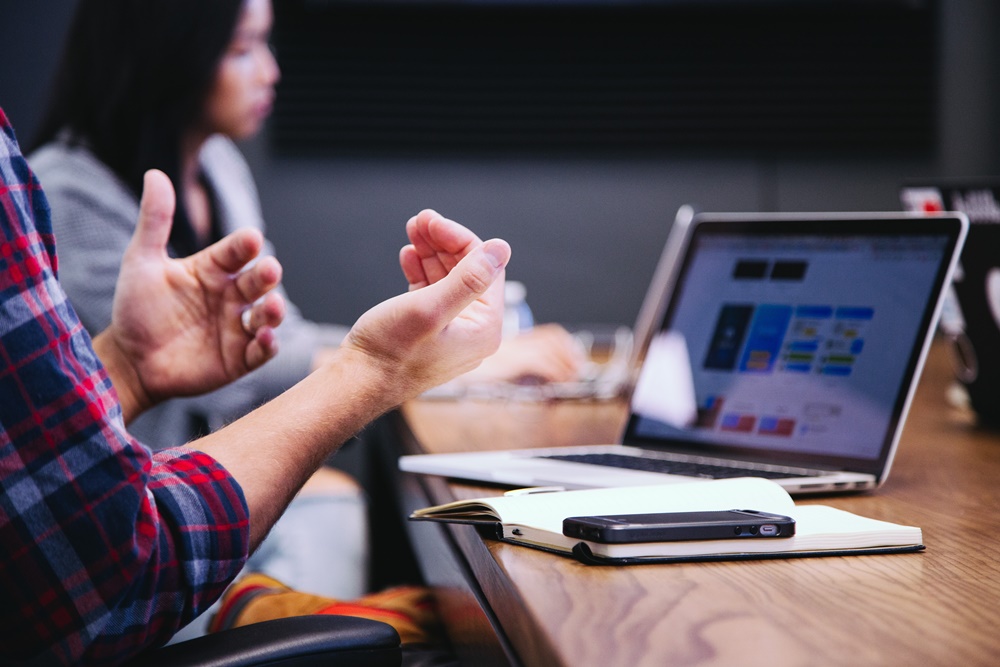 The Main Topics and Questions to Ask at a Tech Board Meeting
Having a solid agenda and view of all the points and matters that need to be discussed during a tech organization's board meeting is essential for getting things done. In order to achieve this, keeping your company goals in mind is key – focusing on them will conduct your strategies to align with those goals and objectives. Remember that having an engaging atmosphere with in-depth questions can lead to breakthroughs and new ways of thinking about the tech organization's success.
There are a few main areas where you need to look and questions that derive from each of them. Let's review some of the best questions that arise during a board meeting – touching these points ensures that no stone is left unturned.
Strategic Planning Questions
The first step in developing a business strategy is to have a clear understanding of the company's general vision and long-term goals. The leaders within a tech organization need to keep that vision and objectives in mind and be able to coordinate that with the technical vision. A board meeting is the perfect opportunity to promote that technological innovation within the company that has the potential of driving the business forward. Here are the key questions that need to be addressed in order to ensure that the tech strategy is clear and synchronized with the business objectives.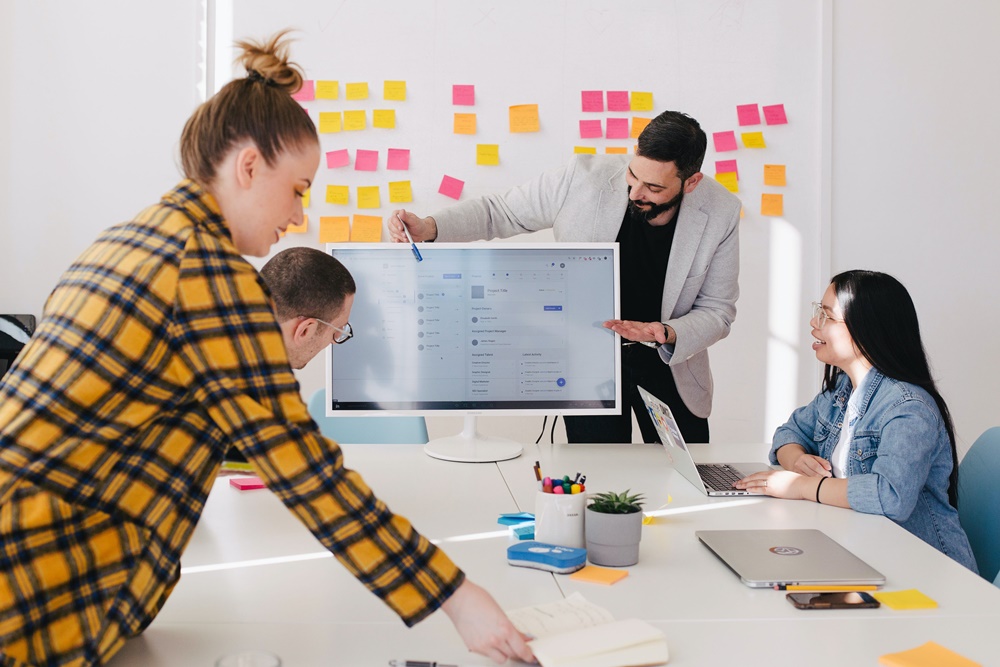 What is the company's technical vision regarding software development?
Whether we are talking about software for internal-use only or developing external-use software products that the company will sell, it all starts with the technical vision – the CTO finds new technology paths then develops a plan with the VP of engineering to implement them.
It's very important to have a clear understanding and general view of this technical vision in a board meeting. This dictates a lot of decisions (like where to invest) and what are the exact methods to implement that vision within the development teams.
What are your innovation plans for next quarter/year?
A board meeting is a great opportunity for extensive discussion over the technological strategy over the next time period. What can we do to constantly innovate and stay on top of our game? This is the time to propose innovative solutions that may be what your company needs to stay competitive or improve internal efficiency. Making the board members understand the implications and benefits compared to the risk is a challenge you can navigate if these solutions are researched properly.
Are we ready to adopt new technologies?
Assess the organization's current technology infrastructure: It's important to understand the capabilities and limitations of the organization's current technology infrastructure. This could be achieved by conducting a technology audit or assessment to gather engineering intelligence and identify any weaknesses or gaps.
The decision to adopt new technologies should be based on a careful analysis of all relevant factors and should be made by the organization's leadership, with input from multiple stakeholders. Good IT governance practices can help ensure that this process is conducted in a transparent, accountable, and effective manner.
Financial Performance Questions
The company's financial status is a crucial aspect of any organization – oftentimes how you plan your finances can make or break a business. This also relates to financial strategy that needs to align with the general business goals and strategy of the company and with upcoming investments. Many matters that may arise in this discussion will need to be voted on – approving budgets for future projects, for example.
What are our current and future financial needs?
Keeping on top of your project costs is important – this way you can always see if your initial budget stays on track or resources are being wasted. Waydev can help you see how resources are allocated and if that is efficient or there's room for improvement. With resource planning reports you can have a clear vision on whether the engineers' teams stay on schedule with deliverables. These metrics can also show if your budget is spread efficiently to various product development stages or adjustments are needed. It will also help you understand your organization's current and future financial needs, including any funding needs or investment opportunities.
How are we performing compared to our financial goals?
It's essential to track the organization's financial performance over time and compare it to the goals that have been set. This might involve reviewing key financial metrics, such as revenue, profit, and cash flow.
What are the main drivers of our financial performance?
It's important to understand the factors that are driving the organization's financial performance, both positive and negative. This might include analyzing trends in revenue, expenses, and other financial metrics.
Operational Questions: Staff and Culture
Company culture is about creating a healthy work environment where communication is encouraged in order to better understand what are the engineers and developers' challenges and potential struggles. This also promotes forming a strong sense of community and belonging to an organization that values its employees.
How are we supporting the professional development of our teams?
Support the growth and development of the engineering staff and drive overall organizational performance by using DORA metrics to assess the current state of your organization's engineering practices.
By analyzing your organization's performance on the DORA metrics, it may be possible to identify areas where the engineering staff could improve. This might involve identifying bottlenecks in the delivery process, improving collaboration between teams, or adopting more efficient tools and technologies.
8. What are the challenges when hiring new members of staff and what is the retention rate?
Retention rate refers to how many employees change jobs within a short period of time (a few weeks, months, usually less than a year). This shows that job satisfaction is not high enough to keep engineers motivated and loyal to the company. But this also implies constantly investing time and efforts in onboarding which can be challenging because new employees are not fully productive right away.
Hiring the right talent for each job is no easy task either – the tech business implies constant innovation and engineering skills need to keep up with that at a fast pace. These matters need to be discussed in a board meeting in order to find better ways to improve retention rates and employee satisfaction.
9. What is the satisfaction rate with the engineers and development teams?
A positive and inclusive culture can have a major impact on the success of an organization. The board might consider asking about the organization's efforts to foster a positive and inclusive culture, as well as any challenges or opportunities in this area.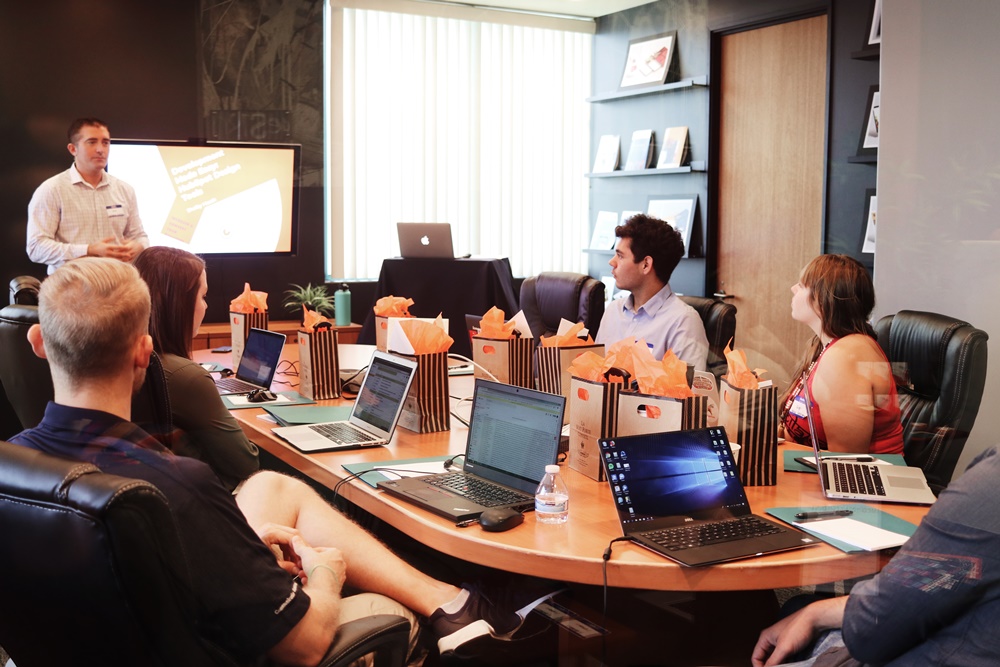 Performance Related Questions
There are many performance-related questions that a board of directors might consider asking at a board meeting, depending on the specific needs and goals of the organization. . Knowing how your teams are doing is crucial in a board meeting because this has an impact on the ongoing projects and general success of the business.
10. How do you measure the performance of our technology systems and infrastructure?
As a VP of engineering you need to know where your teams stand in terms of deliverables, velocity, workflow, and when they are most productive. But this data doesn't come along easy – you need to have proper tools with metrics that give you the exact story. When this question arises at a board meeting, having feedback from your engineering managers is crucial.
Waydev gives comprehensive metrics that evaluate software development activity without any manual input from engineers by feeding complex data visualized in multiple dashboards. The executive reports feature helps you see the status of the ongoing projects and identify potential roadblocks and challenges.
11. How do we prioritize and allocate resources for performance improvements and optimization?
There are several factors to consider when prioritizing and allocating resources for performance improvements and optimization – like: business impact, ROI or dependencies. To allocate resources for performance improvements, it may be necessary to prioritize and schedule the work in a way that ensures the most critical issues are addressed first.
Throughput is an efficient way to evaluate your engineering teams' focus. Having complete visibility over d progress and general output will provide a complete image of what areas to tackle first..
12. How do we balance the need for performance improvements with the cost and effort required to implement them?
In other words: How do we promote efficiency in order to improve performance? You can promote efficiency through better tools that enhance workflow, encouraging collaboration within and between teams, and providing conditions for more uninterrupted work time. These solutions can scale the business and result in better quality outcomes and reduced costs for day-to-day activities.
Waydev offers you engineering intelligence metrics that foster your team's continuous improvement, helping you ensure that performance improvements are implemented in a cost-effective and sustainable way. performance arise.
Risk Management Issues
Discussing potential risks for the tech organization has great value at a board meeting because this is how you can anticipate crises and create mitigation strategies. These risks include new disruptive technologies, brand reputation damage, or promoting an unhealthy work environment. Extensive talk about the potential risks to the company is paramount for any business that wants to be prepared for any emerging crises.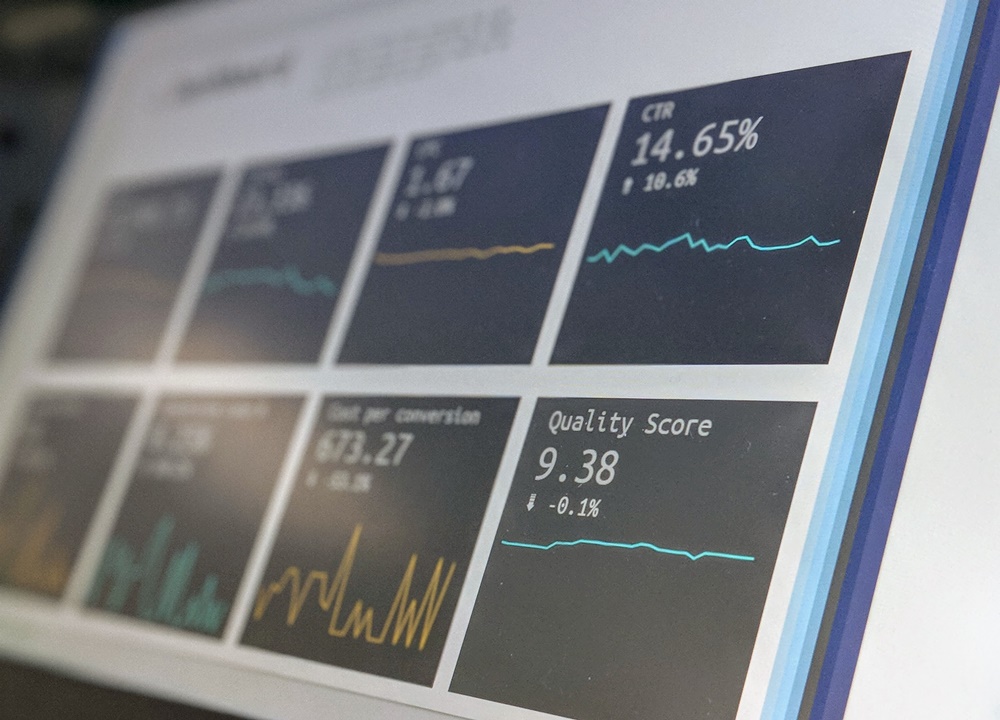 13. How do you manage risks?
It's very important to always assess and anticipate risk in any business area. When it comes to the tech department, this can mean evaluating the potential risks of Pull Requests, as they have the potential to cause problems, such as delayed integration.
Having visibility over the risk of PRs is a great advantage and now you can do so by using the PR Workflow Analytics. These metrics will give an overview of the Pull Requests process and where roadblocks or issues may be creating problems.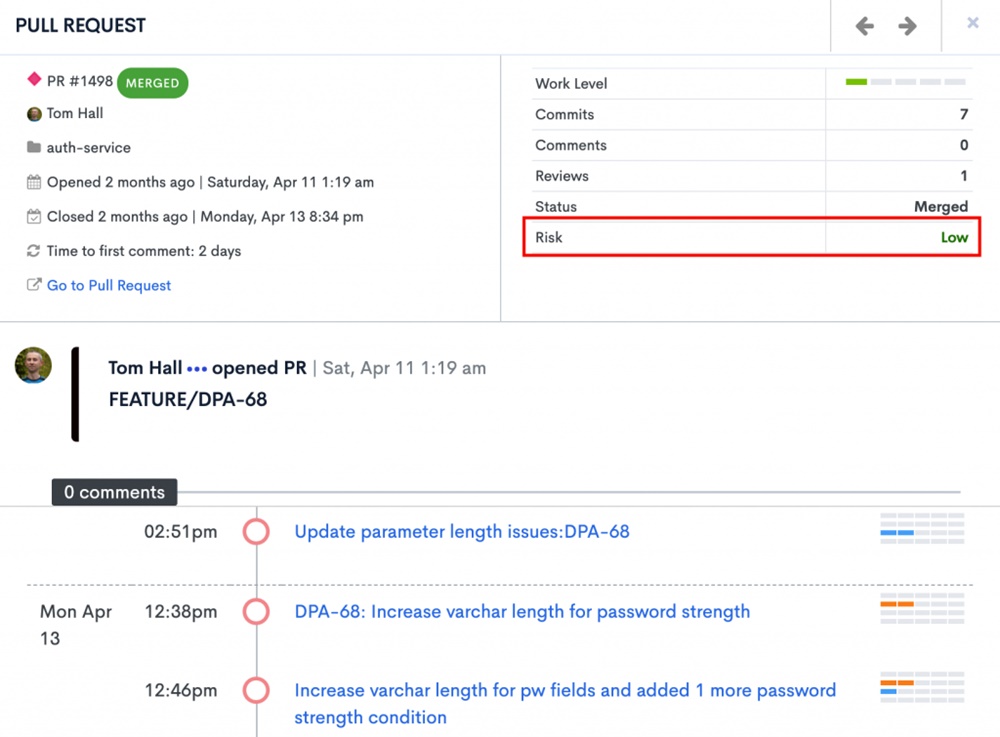 14. How do we prepare for industry changes?
The tech industry is one of the fastest growing industries and its innovations wait for no one. Board members know that any tech organization that wants to stay competitive on the market needs to constantly be on top of their game, and this means adapting and taking chances. New technologies that emerge can sometimes be disruptive and put your business off track from the initial strategies – meaning they cause sudden shifts within the industry that changes radically the way we do things.
Some examples of disruptive technologies are 5G Technology, 3D Printing or Advanced Virtual Reality. Executives in a tech organization must always ask themselves what are the emerging technologies in the industry and how will this affect our business? How can we adapt and keep up?
15. How are we complying with laws and regulations?
Any industry falls under certain laws and regulations depending on the area. Board members and executives in a tech company have to constantly ask themselves if their business decisions and strategies are in compliance with the regulations. Keep in mind that these may change over a period of time, so make sure you are aware and adapting to the current regulations.
An Interactive Board Meeting Can Bring Progress
The questions outlined in this article provide a comprehensive list of topics that could be addressed at a board meeting in a tech organization. From measuring the performance of technology systems and infrastructure, to optimizing for scalability and security, these questions are designed to help ensure that the organization is making informed decisions about its technology strategy and priorities.
By asking these questions at each board meeting, tech organizations can stay up-to-date on the latest industry best practices and emerging technologies, and make informed decisions about how to allocate resources and prioritize projects. Overall, asking these questions at board meetings is an essential part of effectively managing a tech organization and staying ahead of the curve in a rapidly evolving industry.
Contact us today and learn how Waydev can help you find the solutions to some of the most essential questions board of directors are likely to ask.