Download the whole artcile here
We couldn't help but notice that many Code Climate Velocity users seek a better alternative due to the platform's pricing and lack of flexibility in adding new features. Unlike Code Climate Velocity, we continuously improve the platform by releasing new features every month.
Waydev also provides data-driven Agile features like Project Costs, Activity Heatmaps, Weekly Report and Custom Report.
Waydev acts as a single record system for measuring costs per epic/feature, resource allocation, and team performance, and delivery velocity. We also help engineering leaders by offering them engineering performance reports and a holistic view of the software development process.
Key differences: Code Climate Velocity vs. Waydev
Getting in-depth into the aspects that make Waydev the best Code Climate Velocity alternative would need way more writing space than we have on this comparison page, so we've decided to boil it down and let you decide which is the better.
Unlike Code Climate Velocity, Waydev offers:
DORA metrics are available through our integration with many CI/CD Tools (CircleCI, Github Actions, Azure Pipelines).
Enterprise Ready features
Waydev is easier to set up and manage, while Code Climate's user management is more complicated
Loved by Startups (Product Hunt Product of the Day)
GitLab official partners.
Flexible plans, the possibility to pay per active engineer
We offer both cloud and on-premise solutions. Whereas Code Climate doesn't offer on-premise deployment.
SAML Single Sign-on.
Waydev is SOC 3 certified (highest level of security).
Calendar integration is also available with Waydev (the only one in the market to offer this) to help you start measuring maker time and meeting load for your teams.
Unlimited teams & unlimited users in our pricing plans.
You can skip to the section that interests you or bookmark this comparison for future reference.
Waydev vs. Code Climate Velocity Features Comparison
Performance Benchmarking: How Waydev tracks performance vs. Code Climate Velocity
Spotting Problems: Waydev vs. Code Climate Velocity
Customization: Why Waydev is the better alternative to Code Climate Velocity
Waydev vs. Code Climate Velocity Features Comparison
Get a clear view of software development KPIs across code-level, code collaboration, tickets, and other actionable metrics.
Unlike Code Climate Velocity, Waydev offers a beautiful dashboard where you can measure essential metrics in minutes.
DORA metrics dashboard with data on the four metrics: LTC, DF, CFR, MTTR.
Custom Reports are one factor that sets us apart from Code Climate Velocity. The flexibility in building the reports allows you to create unique visualizations and understand data about process changes, ramping-up new hires, department restructuring, and more.
On top of the real-time risk alerts that Code Climate Velocity provides, Waydev also sends Burnout alerts via Slack Alerts, Google Chat, and Microsoft Teams.
Code Integration: Waydev vs. Code Climate Velocity
Waydev integrates with many of the most popular source code repositories, including Azure DevOps, GitLab Enterprise, AWS CodeCommit and Gerrit. Code Climate Velocity provides data only on GitLab, GitHub, and Bitbucket repos. Moreover, Code Climate Velocity offers API access only on the Enterprise plan.
Performance Benchmarking: How Waydev tracks performance vs. Code Climate Velocity
Code Climate Velocity performance benchmarking tools includes:
Health Check is a report that lets users see how their team members perform this iteration compared to the previous three.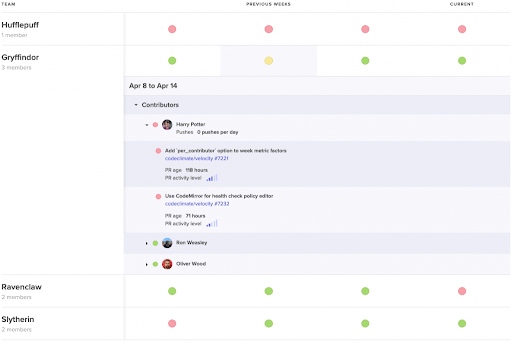 Key drivers of engineering velocity help you uncover the leading indicators of high performance and skill development.

Work in progress showing users all the open pull requests with activity in the previous three days.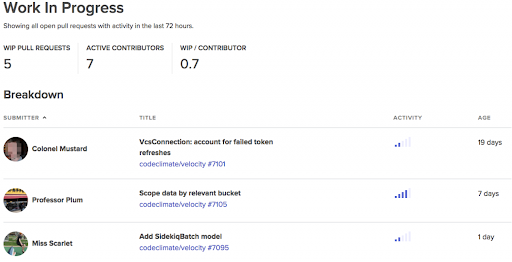 Waydev has multiple performance benchmarking features.
Dashboard with the most commonly-used functions of Waydev in one clean panel of graphic data. Benchmark your team's performance over the selected timeframe, details regarding commits, top performers, and more.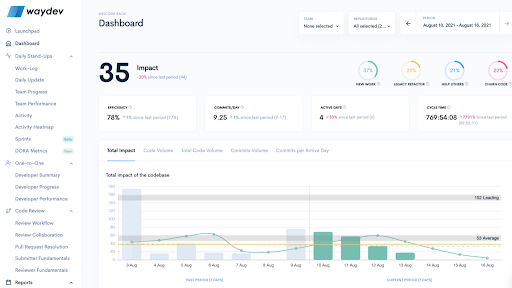 Team Progress helps you to compare a team's performance to previous timeframes. You can also filter by repositories.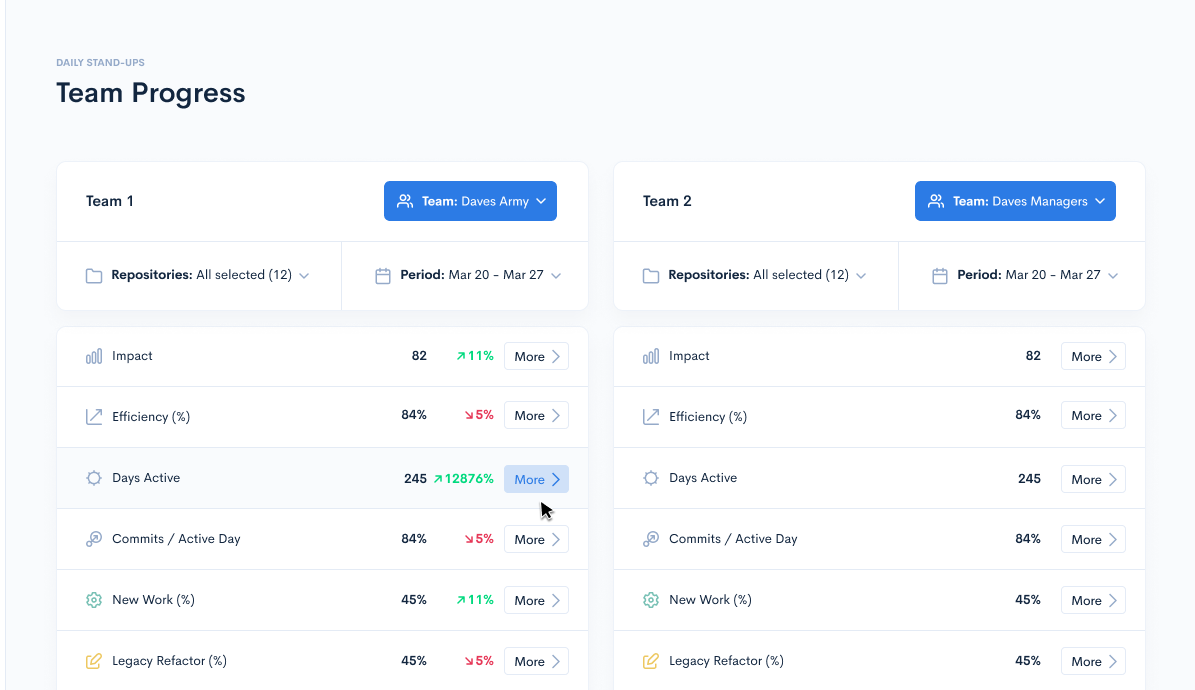 Project Timeline monitors the work pattern of your team, giving you insights on how much new code was written, how much of your engineers' focus went to help other team members, how much of the code written had been churned, and how many lines of code have been reworked.
Sprints aggregate multiple data points from your issue tracking system into a proprietary metric – sprint risk.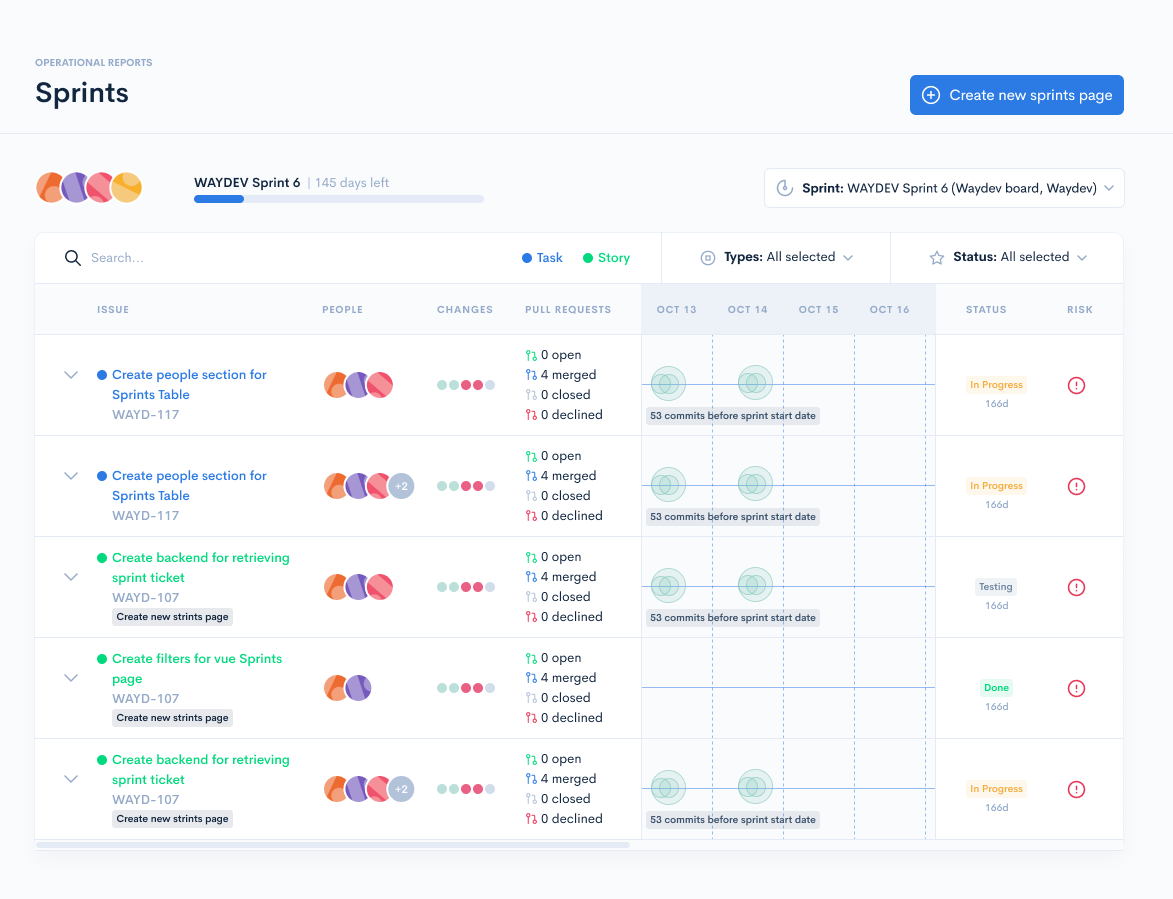 Spotting Problems: Waydev vs. Code Climate Velocity
Waydev offers many features that help you better understand potential issues.
Team Summary Reports help you spot and eliminate any blockers or issues holding your team back. Maybe you spot a high amount of churn that could signal a team is stuck.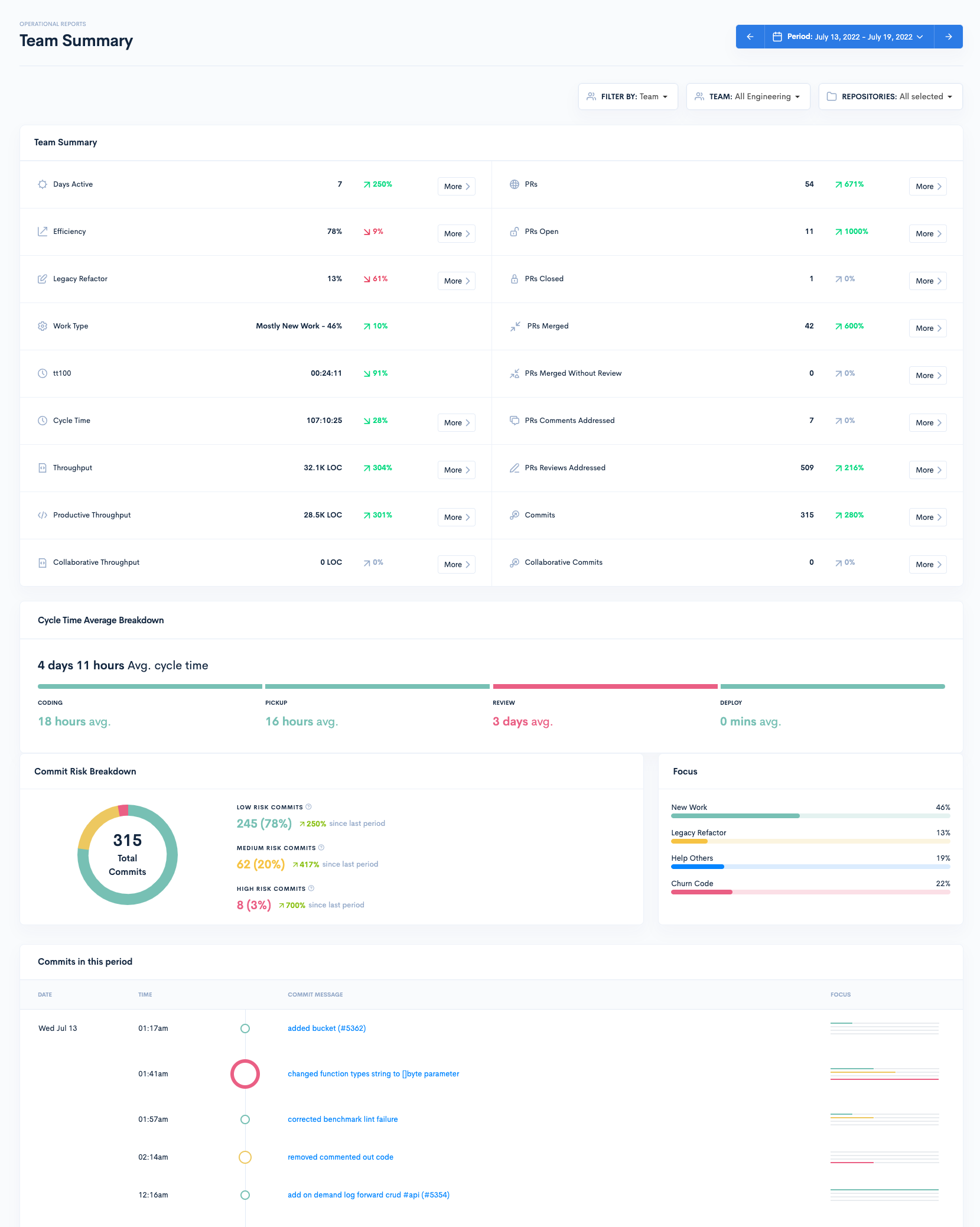 PR Resolutions Report helps you identify bottlenecks in your PR cycles throughout the sprint.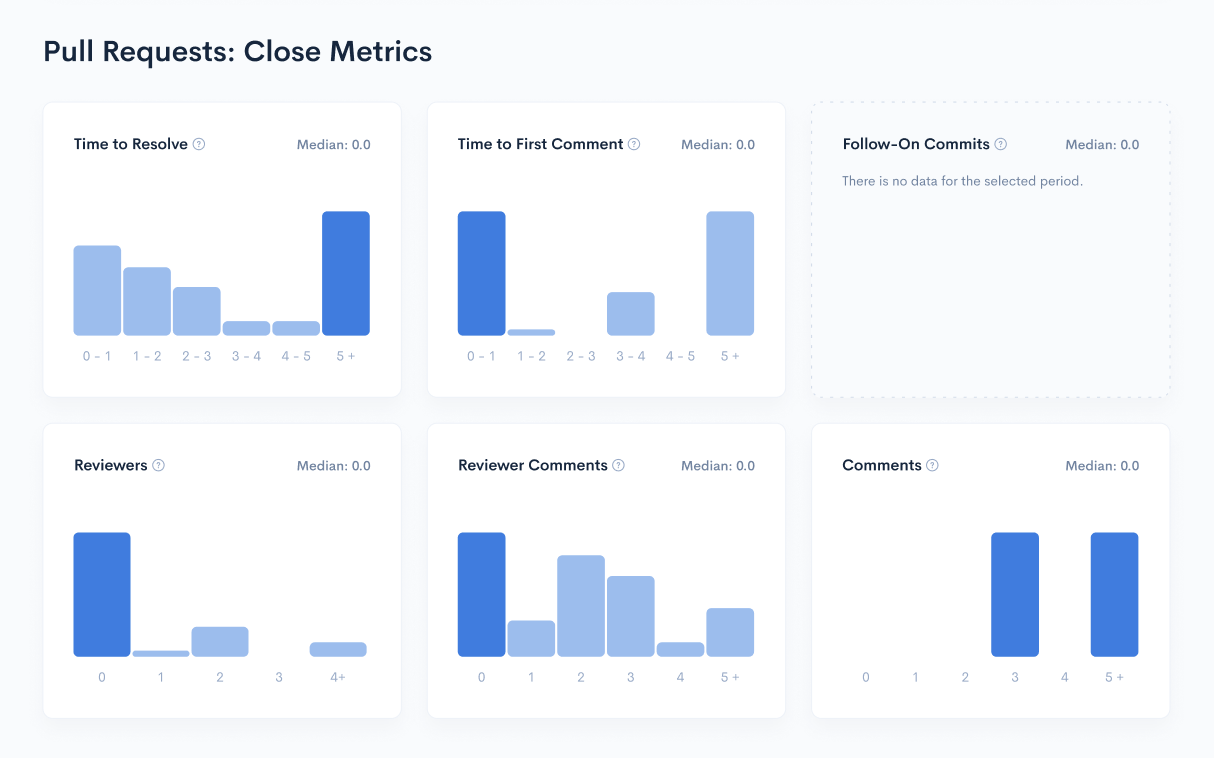 Code Climate Velocity's solutions to locate are limited to:
Activity Log provides an overview of engineers' output over a time frame.

Late Night Pushes, which signals pushes done after 8 pm weekly.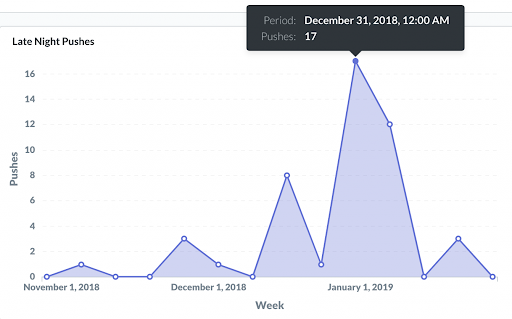 Customization: Why Waydev is the better alternative to Code Climate Velocity
Waydev offers many optimization options, not limited to Targets, custom settings, custom reports, and the role and management access personalization.
Our Role Management feature gives your users custom access to custom features.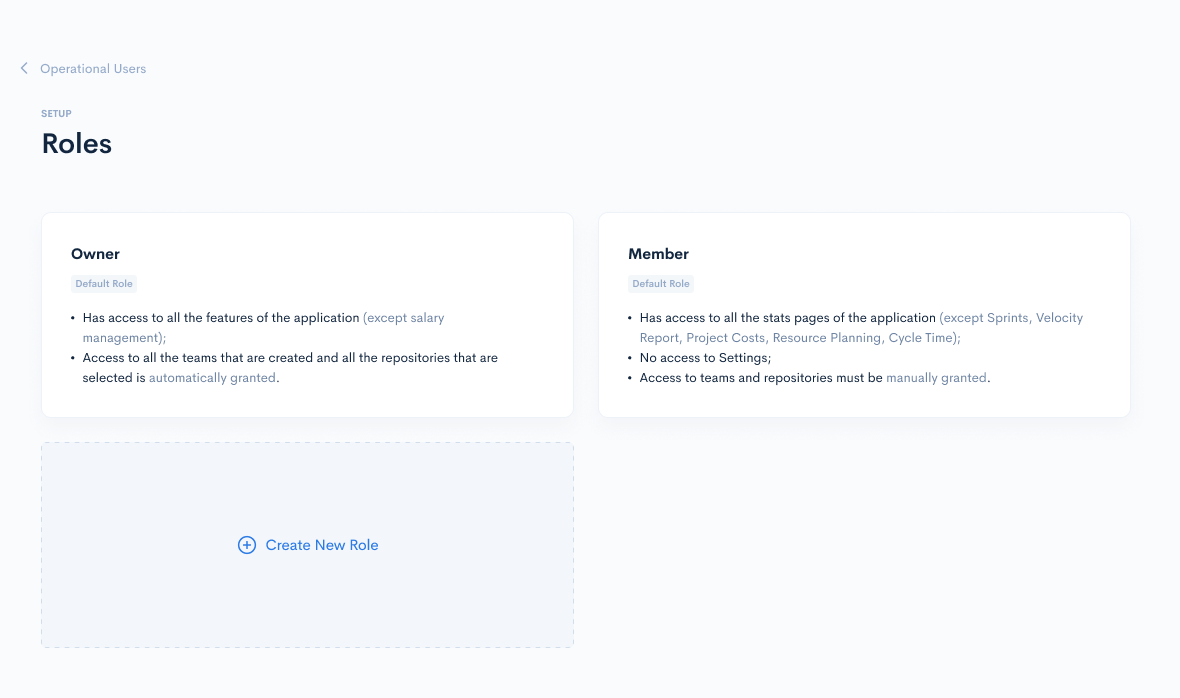 With Waydev's Stats Management, you can grant custom permissions for users to view the Dashboard, receive email reports, and view repository activity by checking/ unchecking the boxes corresponding to the team/ repository.
Code Climate Velocity also provides customization options, such as setting targets, customizing the Health Checker, and setting bilaterally agreed-upon benchmarks.
Pricing: Why Waydev is the most cost-effective alternative to Code Climate Velocity
Unlike Code Climate Velocity, Waydev doesn't restrict paying a license for the number of engineers you track. We want you to use Waydev because you're happy with the service, not because you signed a contract for a specific plan. With Waydev, you can pay per active engineer and upgrade for more licenses.
Waydev Customers Reviews
"Waydev is an easy-to-use, robust platform that aggregates & displays
critical project and developer metrics in an easy-to-digest way."

"We were looking at bugs, and we would ask how many tickets got reported
resolved. But after Waydev came, we were able to get a little bit deeper."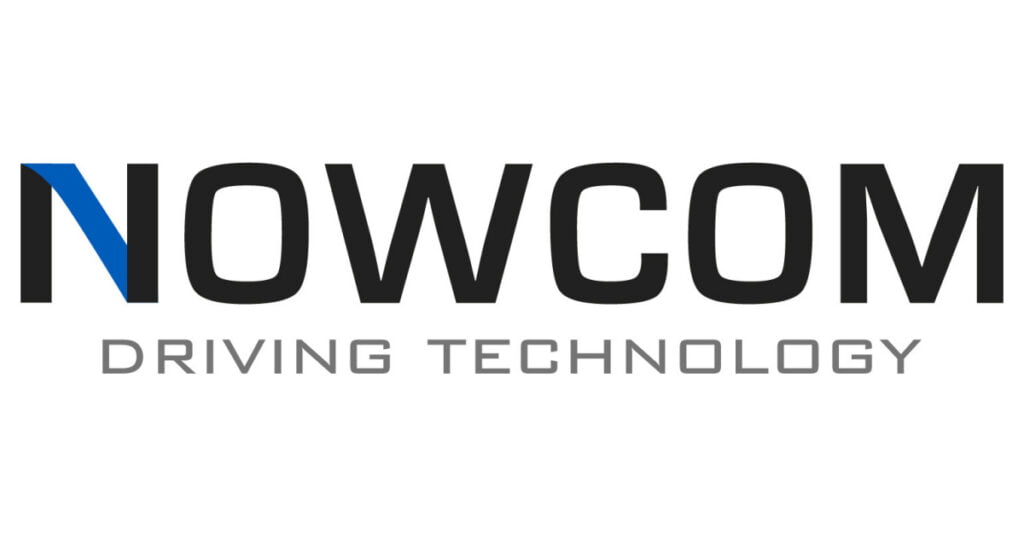 "Waydev helped us identify the output of our teams.
It improved the overall efficiency of our engineers."

"Thanks to Waydev, we have a lot of insight into the whole
development process and a more data-driven approach."

"It's easy to use, provides helpful insights on how to support
developers. Their support is very fast, which I love."