Download the whole article here
The most recent economic downturn the world has gone through is the Recession of 2007-2009. If you're a company executive for less than ten years, you have little to no experience with such severe economic events. Discussions about a new financial crisis arise, so many businesses may be vulnerable in the face of extreme, abrupt change.
While software companies were less affected by the 2007-2009 recession, things might look quite different this time. As globalization enables worldwide software companies to target customers everywhere, the overall landscape has become significantly more complex and competitive.Executives might not benefit from a green card that keeps them protected, and organizations might find it challenging to attract investment.
This is why building solid economic downturn strategies are more important than ever. Companies have to build immunity and take action to ensure they stay ahead of challenges, manage cashflows, and reinforce their positioning to secure employees and clients. By leveraging the power of data and making data-driven decisions, organizations of all sizes can make downturns work for them instead of against them.
With Waydev, CTOs, VPs of engineering, and other executive engineering leaders can assess their costs and allocate resources effectively to deliver projects aligned with business needs and requirements. Our solutions enable you to know how work progresses, the volume of unplanned work, and the projects' roadblocks.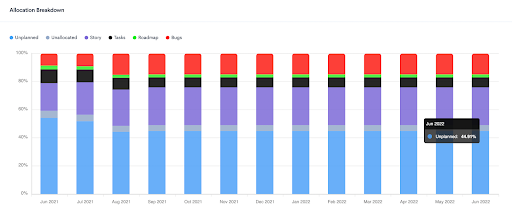 So, what strategies can a development company use in an economic downturn? In this article, we'll walk you through some strategies meant to increase the chances of making it through the forecasted economic downturn.
Y Combinator is warning companies to prepare for an economic downturn
As mentioned in an article by TechCrunch, Y Combinator, the Silicon Valley business accelerator, advises portfolio founders to prepare for the inevitable – a worldwide economic downturn starting in 2022.
The investment firm that backed up big names like Airbnb, Dropbox, Reddit, and Waydev advises entrepreneurs and CEOs to prepare for the worst, reduce their organizations' expenses and extend a runway. This means aiming for Default Alive, which is an extreme measure to secure the company and reach profitability before the organization runs out of money.
Preparing for the economic downturn: Strategies that software development companies can use
The Y Combinator open letter raises questions on the economic downturn 2022 might bring and makes executives and organizations ask themselves whether there are other tactics except reducing expenses to the minimum.
The answer is, of course, yes. Organizations must consider and implement several financial, client, and internal management strategies to survive and even strive in this challenging landscape.
Companies can make it through a potential recession by identifying the right mix and using their resources wisely.
Financial management strategies
The whole investment landscape is already changing. If economic downturn strikes, venture capital funds will have more challenges when it comes to attracting money, and their limited partners will expect more value and more discipline. This means that startups won't be able to rely on additional rounds of fundraising, especially if we are talking about companies that have yet to market their products.
Investors want to see tangible things and results. While many will still have funds, they will use them more wisely so that they may backup the companies which they trust and which have the potential to deliver ROI.
At this point, companies, no matter their sizes, should ensure that they can live for the next two years without raising additional investments. For this to happen, software organizations need to know how engineering costs are spent and optimize operations.
Waydev's Project Costs report does just that. It provides insight into the progress and costs of critical initiatives and deliverables to help teams ship on schedule.

Moreover, our Executive Reports enable you to benefit from complete, real-time visibility over key metrics like software innovation spent and unplanned work.
Stakeholder management strategies
In times of economic downturn, stakeholders want more value for their money, so optimizing each project for top performance and ensuring transparency on your engineering progress is crucial.
There are several strategies you need to apply to obtain stakeholder satisfaction:
Eliminate blind spots in your work progress
Software development projects require a high level of certainty and clarity. When the project starts, executives and stakeholders need to know all its details and have a clear view of the progress.
To understand bottlenecks and delays, engineering managers have to be aware of their team's interpersonal dynamics and work patterns. This straightforward approach eliminates future complications and reduces unplanned work.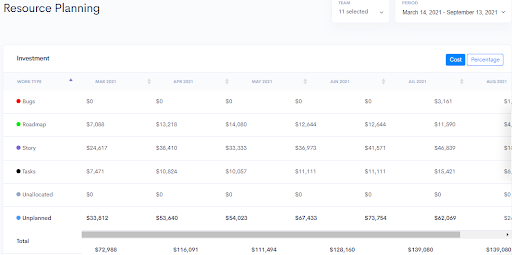 Our reports offer you a clear view of your team's progress and performance, focusing on key metrics you may assess over time. This way, you can see how your team dynamics change for different projects or sprints and how focus and volume modify over time.
Set out priorities for your team to follow
Once you get a clear view of what's working and what's not, the next step is to assess risk and prioritize. This is quite a challenge, and even the most experienced professionals might face difficulties.
There are two types of requirements that need to be considered and prioritized during an economic downturn. These are:
Stakeholders are not happy when a product or service doesn't deliver. Moreover, in times of crisis, they want even more value for their money, so you and your team need to make sure that you prioritize the right set of requirements. In times of economic distress, any error will make them look for alternatives.
Nonfunctional requirements
Nonfunctional requirements bring value to the final result by focusing on security, accessibility, performance, or storage aspects. Any security breach, for example, can lead to legal and financial repercussions for the company, which might turn out to be unbearable.
In times of economic downturn, investors' budgets might be tight, so it is crucial to identify the essential requirements they are facing, set your targets correctly, and ensure your team sticks to the plan. Waydev's Targets feature enables engineering managers to visualize and track team progress by setting up KPIs.
Make fast, data-driven decisions.
In times of economic downturn, situations might change frequently, and opportunities might arise, so reacting fast is crucial. One of the survival strategies that tech leaders employ is making decisions quickly while focusing on the team's priorities.
To do so, they need correct, accurate data that is available instantly. Engineering leaders need to understand where the primary resources are allocated and clearly view their projects to optimize efficiently. For this reason, many data-driven engineering leaders use platforms that help them generate extensive reports like our Resource Planning Report.
Internal management strategies
An essential economic downturn strategy is focusing on your team and ensuring that your most skilled and dedicated professionals stay with you and use their ideas and talent to drive value for the company. You need to make them feel appreciated and secure and continue focusing on their growth, no matter the difficulties your organization faces.
Communicate efficiently and transparently
When organizations are going through an economic downturn, employees are worried about their jobs, their projects, and the overall state of their department. Professionals that aren't kept in the loop share assumptions, ask questions, and create an environment of uncertainty that affects performance and the quality of deliverables.
Good leaders talk to their teams constantly, assess and acknowledge their results, and make them feel part of the bigger picture. They base their directions and decisions on facts and figures that they share with their peers. This way, they make their colleagues feel safer in an ecosystem that assesses results objectively.
Waydev offers you complete visibility of your team's performance and progresses through its Daily stand-ups dashboard, enabling you to have an accurate status over commit, pull request, and ticket activity. Our solution measures team velocity sprint over sprint so that you always know the focus of yesterday's work and the day's priorities. This way, tech leaders have access to all necessary information to communicate efficiently and transparently with their teams.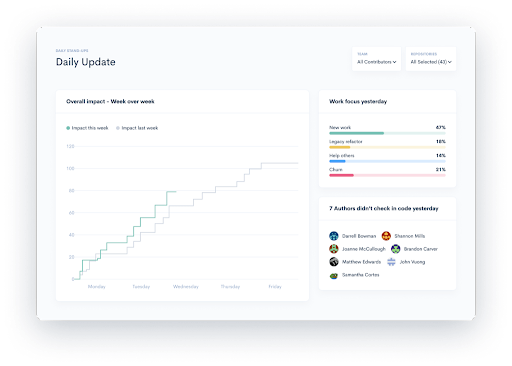 Provide coaching and career growth opportunities
To ensure that your biggest talent stays with you during a potential recession, you must always focus on each team member's career path and take advantage of coaching and overall improvement opportunities.
In times of economic downturn, many professionals need leaders to whom they can look up. They also need to know that these managers pay attention to their performance and provide helpful feedback that enables them to enhance their skills.
With reports like our One-to-one meeting report, you get accurate, valuable insights into engineers' outputs so you can offer feedback efficiently. Our solution enables you to track individual progress sprint over the sprint, visualize work patterns and identify potential bottlenecks.
Bring people together so that they collaborate effectively
By fostering a culture centered around people like the PPT framework, you will create a more productive working environment and benefit from initiatives and ideas that might help you enhance your economic downturn strategies.
Taking this into account, successful tech leaders pay much attention to their team's dynamics and ensure members work together productively.
How to measure the success of your economic downturn strategies
Preparing for an economic downturn is a challenge that generates much discussion. While there is no one-size-fits-all approach that companies can deploy, reducing costs, optimizing your resources, driving value for your clients, and fostering a culture that acknowledges and supports team members may be an excellent start.
For this, you need data regarding your resource allocation, project costs, your team's performance, and the level of team collaboration. Through its dedicated reports and dashboards, Waydev provides key metrics that enable you to assess your team's work, setting a sound base for decision-making and getting your organization buckled up for the economic downturns ahead.
Contact us for a product trial.