Discover the latest updates from Waydev: Firstly, we're launching the AI Copilot, a remarkable real-time AI assistant designed to customize your notifications. Additionally, explore the improved Performance Tabs in Team and Contributor Insights, meant to facilitate a deeper understanding of team and individual performances, making the decision-making process more informed and efficient.
Unveiling the Waydev AI Copilot
Today marks a milestone as we unveil the Waydev AI Copilot. More than just a feature, it's a real-time assistant committed to empowering you to reach your goals. Our starting point? Customized notifications meticulously tailored to cater to your distinct needs.
With Waydev AI Copilot at your side, the intricacies of setting up notification triggers have become a thing of the past. Navigate seamlessly, with our platform guiding you every step of the way. From choosing the pivotal metrics to monitor to setting up values perfectly synced with your specific scenarios, we've got you covered.
However, notifications are just the beginning. As we usher in this revolutionary AI era, be prepared for an evolved, real-time assistant, intricately designed for the unique demands of your organization.
New: Performance Tab in the Team Insights Report
Introducing the new Performance Tab in the Team Insights report, designed to make comparing your team's performance with the organization's easier and more effective. With this update, you can easily see how your team is doing relative to the rest of the company.
In the Performance Tab, each metric is clearly displayed with its value for the selected time frame. You can also see how each metric has changed since the last period, a percentile bar to see how well the team performs compared to the company, and an evolution graph. This straightforward presentation makes it easy to understand your team's progress and areas for improvement at a glance.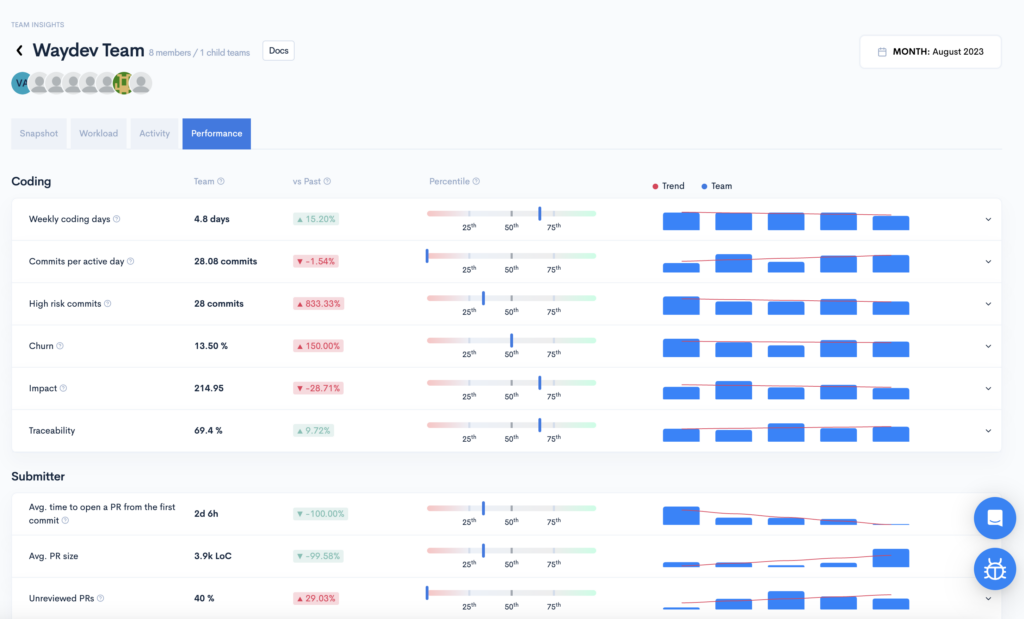 Improved Design for Contributor Insights' Performance
Explore the newly updated Performance Tab on the Contributor Insights page, thoughtfully redesigned to enhance your experience as an engineering leader. This tab seamlessly allows you to compare a contributor's performance to a team's, providing a richer, more user-friendly interface that clearly visualizes essential metrics.
The updated Performance Tab of the Contributor Insights page is here to facilitate a more efficient and enriched leadership experience in assessing and comparing team performance.