Download the whole article here
Enterprises don't settle for just digitally transforming their businesses anymore. They are aiming much higher for digital transformation with data. In this context, enterprises combine digital and analog data to facilitate digital enablement and enhancement, creating a solid and reliable basis for decision-making and business optimization.
While software development companies are already digitally-native, they may still enhance their digital transformation process by adding data to the mix. Once they integrate data-driven decision-making into all areas of their business, from planning to measuring organization-level efficiencies, they may challenge the status quo and rethink their operations.
At Waydev, we understand that a data-driven approach to digital transformation increases efficiency, and business agility and delivers value to the team, customers, and shareholders. Our platform helps tech leaders get more visibility into the performance of their teams.
This article will showcase how data and analytics are critical elements of the digital transformation process and walk you through how you can build a data-first culture for scaling software development.
What is digital transformation with data?
Digital transformation is a complex undertaking that enables companies to rethink and modify their processes, culture, and stakeholder experience using technology. The practice has become mandatory in today's business landscape because it helps organizations keep up with their industries' changing demands, end-user behaviors, and business requirements while optimizing resources.
Digital transformation depends on using digital assets in innovative ways, as its primary purpose is to change processes and operations instead of only enhancing them. In the software development organizations, this can mean changing traditional IT environments and replacing legacy systems with efficient cloud-based applications, implementing DevOps strategies, or automating processes – like reporting. The final frontier is mastering the use of data and advanced analytics, ensuring companies extract and exploit the most value from them.
Top organizations know that information is one of their greatest assets. Using it to its full potential offers them a competitive advantage over other businesses, often turning them into industry leaders and pioneers. They track, measure, and analyze data to deliver stakeholder value and increase project delivery velocity.
Top benefits of digital transformation with data
There are many PROs for traditional digital transformation processes, but when you add data to the table, you are looking at digital transformation at scale. Here are some benefits enterprises enjoy when using data to enhance their digital transformation.
Drive optimization by redefining processes and operations
When companies constantly track and assess data, they benefit from an in-depth view of their business processes and operations, allowing them to understand how the smallest optimization can contribute to scalability.
Optimizing and digitizing critical monitoring processes that asses resources, workload, and costs create a firm basis on which technical leaders can build improved end-user experience, make team contributions more effective and reduce costs.
Waydev's Executive Reports offer tech leaders instant access to insights and data points, unlocking intelligence across software development organizations. Our platform automatically gathers and analyzes data to give you visibility over your project. Moreover, by setting up customized reports, you get access only to information you care about.
Increased business agility
Business agility enables companies to thrive in the digital age by quickly adapting their strategies to market changes and opportunities. Companies that use data get an early view of business challenges and opportunities and a better understanding of them. This makes it easier for them to make fast and reliable strategic decisions, explore new business markets and shift business priorities when necessary.
Greater value for stakeholders
Data-driven approaches to digital transformation generate insights and action points that help CIOs assess how stakeholders receive project development reporting. Accurate, data-driven reports and feedback enable them to adjust their strategies, targeting end-users with the best, most intuitive solutions while adhering to business requirements. This will increase stakeholder satisfaction and turn more users into loyal brand promoters.
Maximal benefits with minimal risk
Constant access to business intelligence and strong, reliable data enables CIOs to understand what drives market change and forecast each business decision's repercussions. The ability to test scenarios benefiting from a high level of accuracy and reducing unknown variables ensures companies maximize their benefits while minimizing risks. Even more, with today's data-driven approach to engineering management, Agile platforms contribute to creating an automated, analytic environment that helps companies optimize their development process and meet industry regulations.
A higher degree of team collaboration
Data-driven digital transformations automate complex processes while making them faster and more transparent. This fosters real-time collaboration, allowing team members to reiterate software development elements quickly.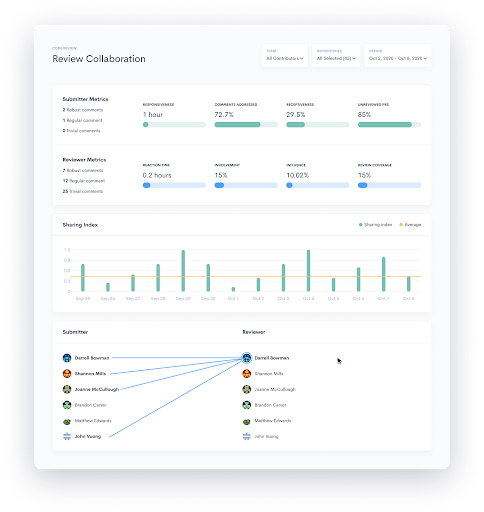 Digital Transformation with Data: Objectives Dictate the Process
When genuinely successful, digital transformation with data ensures companies align and unify their tools, strategies, processes, and analytics to create a seamless environment that supports intelligence-driven decision-making and smooth, efficient, simplified processes.
Given that each company is different, there is no one-size-fits-all approach, so tailored digital strategies must be implemented. These depend on the starting point, existing processes, and the organization's objectives.
As a CIO, your responsibility is to identify specific engineering objectives and target vital results. An excellent way of doing so is by focusing on clear, transparent, and ambitious outcomes that are measurable. This approach ensures teams remain motivated and with a keen interest in the project.
Waydev makes things easier, enabling tech leaders to measure how professionals' work aligns with business goals effectively. Our platform automatically collects and reports data from your engineering tool stack to create a single source of truth and help you scale your organization.
Software Development Objectives: How to apply data-driven digital transformation to main OKRs
→ Implementation of Agile data-driven management across engineering teams
When done correctly, digital transformation with data helps software development companies implement Agile data-driven management across engineering teams, transforming operations and placing flexibility and business intelligence at the center of their functions.
To accomplish this, CIOs must focus on several crucial aspects, like automating performance reporting and establishing, tracking, and measuring team performance metrics.
Waydev helps you achieve all these by offering instant access to each team's core metrics. The Developer Summary report includes a view of your teams' output, a breakdown of their commit risk, and their work focus.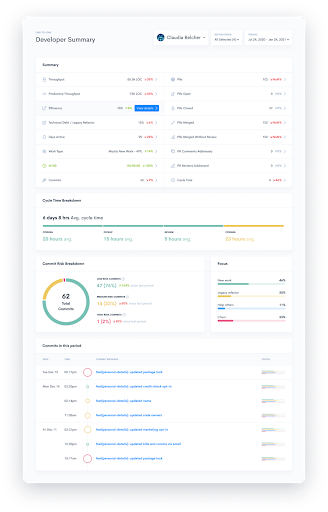 → Higher product release quality
Tech leaders feel considerable pressure to improve the quality of product releases while shortening sprints and responding to code changes and an overall need for velocity. This may be done by transforming operations and using data to streamline processes, focusing on things like reducing the number of bugs identified during the development process, improving the coverage of unit testing, increasing sprint capacity, or targeting code review increases.
→ Product performance increase
While every product is unique and delivers value according to several variables, there are still general key results that may impact its performance. Tech leaders focusing their digital transformation efforts on performance may target reducing the number of critical bugs, increasing overall stability, and creating product sheets with frequently asked questions so stakeholders can make the most of their product.
To know more about setting and measuring OKR, read our dedicated article. Digital transformation with data should be applied to scale all organizations, regardless of their sizes and profiles. While each company has differentiators, similar objectives translate into efficient strategies.
Digital Transformation with Data: Strategies for Software Development Enterprises
Using IT as a Force-Multiplier to your Organization's Digital Transformation
Digital transformation goes beyond the technologies you are employing. Shifting your operational processes and flows requires cultural transformation, a change of mindset that may only be unlocked with a DevOps mentality.
DevOps combines development and operational philosophies and practices to expedite software delivery. It also enables organizations to transform, by helping them cut off silos, make room for real-time collaboration between different team members, and continuous innovation, delivered with agility.
Moreover, DevOps automates landscapes, leading to efficient environments that minimize human errors and deliver high value to stakeholders, using people's skills in areas where they make a difference. This approach fosters creativity and problem-solving.
Waydev's DORA Metrics Dashboard tracks and analyzes data from CI/CD pipelines without requiring manual input. This enables engineering executives to assess the performance of DevOps tasks, from building to releasing software.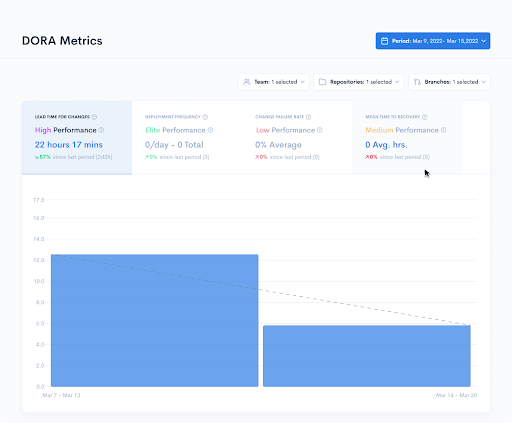 Increase Business Velocity with Cloud Principles and Operating Models
Stakeholders' expectations now evolve with unprecedented speed, making it necessary for organizations to keep up with them and develop business velocity. This may only be done by deploying cloud principles and operating models that enable companies to access new products and services, accelerate time-to-market, and optimize operating costs.
To do so, CIOs need to take a step back and look at the cloud operating model from a holistic perspective, focusing on how the cloud helps businesses expand their footprint and respond to new requirements more rapidly.
Identify Inefficiencies, Risks, and Improvement Areas
Companies undergoing digital transformation are working toward integrating upscale technologies and automation tools to deliver efficiency and innovation.
Still, the need to innovate and benefit from velocity comes with its associated risks, from potential bugs and errors that go unnoticed, which can escalate and cause disruptions to other types of failures, and setbacks that delay the development project.
One way to identify inefficiencies, risks, and improvement areas, is by analyzing code repositories. With platforms like Waydev, you have a clear view over the codebase from multiple Git providers like Github, Gitlab, Azure DevOps, and Bitbucket.
To identify risk, Waydev uses a pattern-matching engine that looks for problem-causing anomalies. Our solution looks into a series of factors, from the size of the commit, to whether the changes made are spread through a wider surface of the codebase or tightly grouped. We also consider the severity of the changes made to existing code to understand how deeply these may impact the final result.
Waydev Brings the Data to Digital Transformation
Digital transformation with data is necessary for software development companies that want to stay ahead of the curve and deliver value to stakeholders.
Waydev is the Data-Driven Agile way of viewing engineers' output directly from Git repositories. Our solution enables you to integrate processes, assess your flows, and instantly access intelligence and data points. This way, you and your team get valuable intelligence that you can use to shift strategies and flows.
Contact us, and we will show you how to make the most of your digital transformation.