We are thrilled to share Waydev's latest updates! Our latest update includes DORA Metrics through API, Applications, Targets 2.0, and Multiple Dashboards. With these updates, you can now customize how your organization defines a deployments or failures, group repositories and teams in applications, visualize targets in their own dashboard, and set multiple active dashboards. Keep reading to learn more about these new features and how they can benefit your team.
DORA Metrics through API
We changed the way DORA Metrics are tracked in Waydev, and we are using signals from your Git provider. It is now necessary for you to set up and configure your DORA Metrics. You must select what Waydev should count as a deploy or a failure. This can be easily accomplished by following the step-by-step instructions provided in our documentation.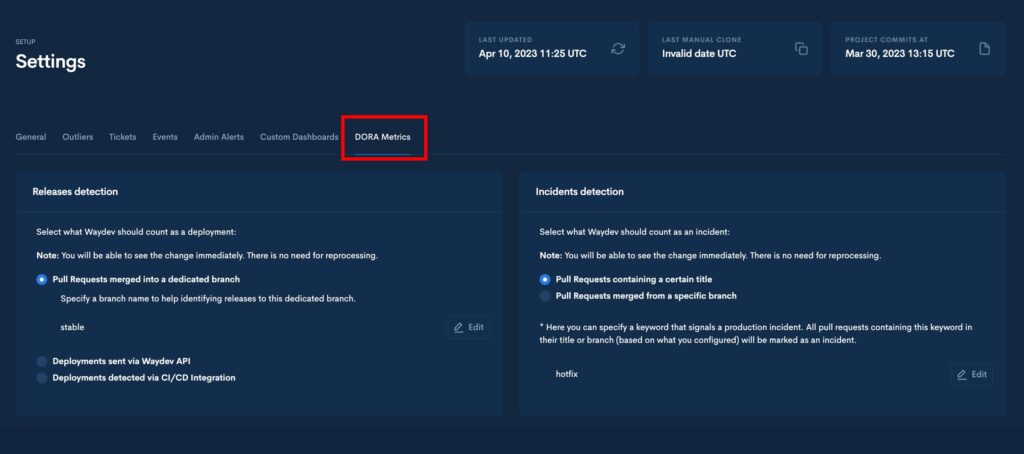 Applications
Applications are the new Waydev feature that allows you to group multiple repositories, teams, and boards into a single Application. Once set up, you can filter your reports based on these applications. Learn how to set up your applications in our documentation.
Targets Update
To keep track of your Targets, you can now visualize them in the Targets Dashboard from the Dashboards section in the sidebar menu. All the targets you'll set will be displayed here in a color-coded dashboard (Green: Going well; Red: Action needed; Yellow: Attention needed; Blue: No target set). Follow the step-by-step instructions for setting up your targets in our documentation.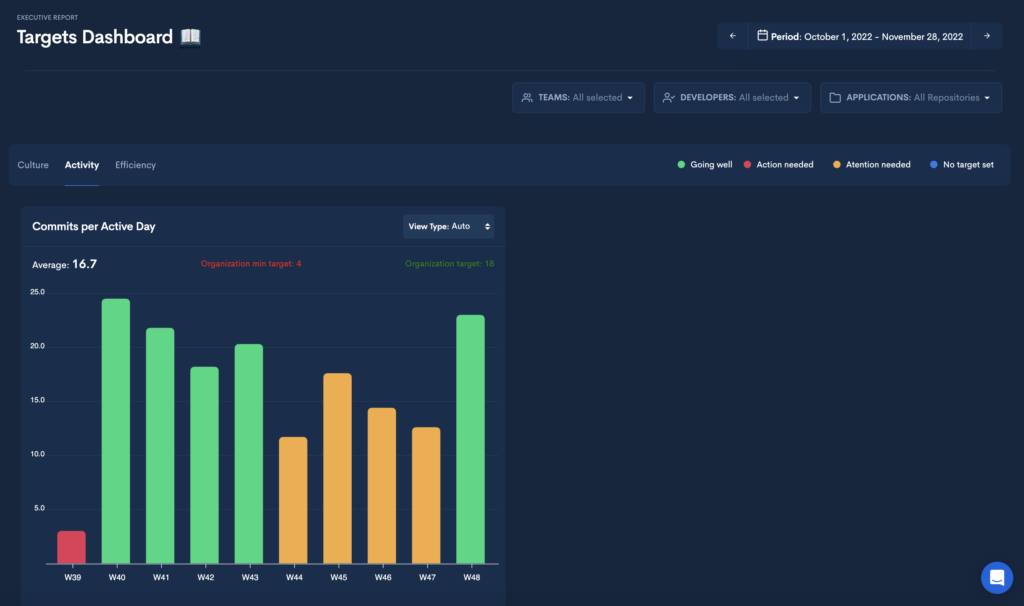 Multiple Dashboards
You can now set multiple Dashboards as Active in your Waydev account. After switching on the toggle for the Dashboards you want Active, they'll appear in the sidebar menu under "All Dashboards". Follow the step-by-step instructions in our documentation and learn how to set your dashboards as active.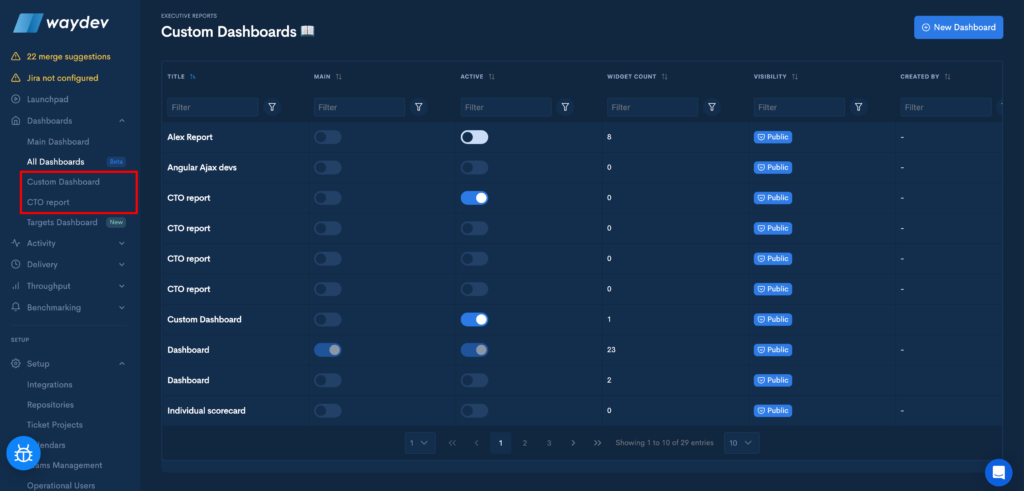 Waydev Interview with Nathen Harvey, Talking About the Importance of Digging Deeper Beyond DORA Metrics
The Waydev team recently had the opportunity to talk to Nathen Harvey, developer advocate at Google Cloud and DORA (DevOps Research and Assessment). We discussed the common interest in advancing DORA Metrics and helping organizations improve their software delivery and operational performance.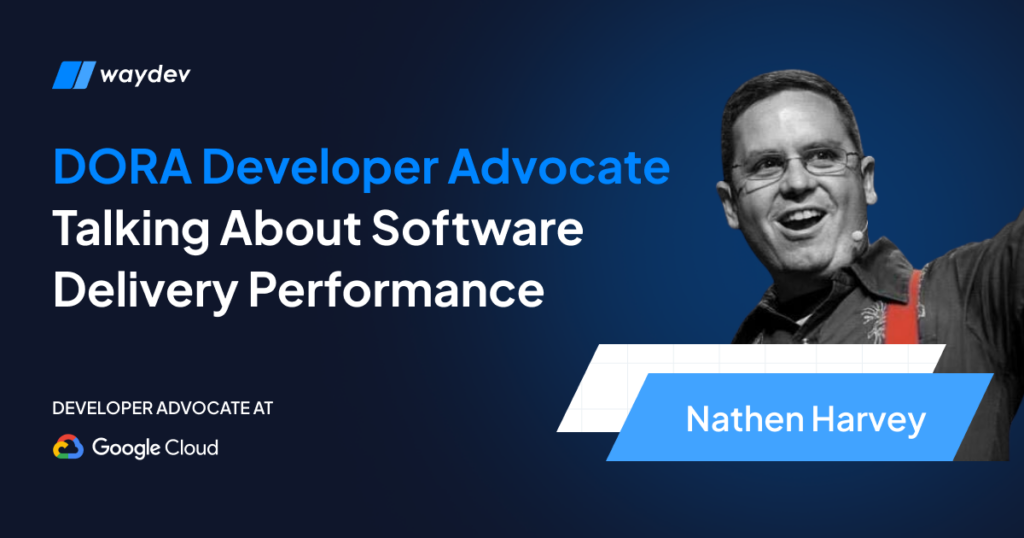 Mean Time To Recovery—A DORA Metric Explained – Article in Forbes
Mean Time to Recovery is a DORA metric that captures the severity of an impact. This metric shows how efficiently engineering teams are fixing problems. Learn more about this metric in the latest Forbes article by our CEO and co-founder, Alex.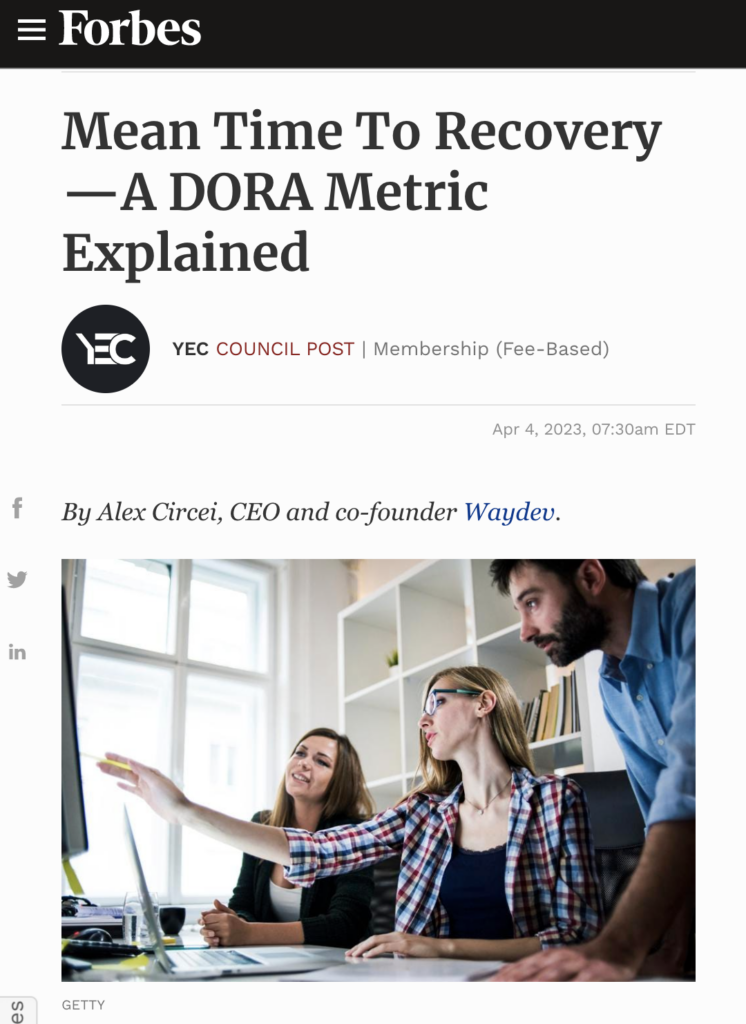 How To Measure And Improve Cycle Time – Article in Forbes
Cycle Time serves as the speedometer for engineering teams, providing valuable insights into their development process. By measuring and improving Cycle Time, teams can accelerate innovation, stay ahead of the competition and attract and retain the best talent. Learn about Cycle Time and how to improve it in this Forbes article our CTO and co-founder, Valentin, wrote.