Download the whole article here
People often mix Tech Leads and Engineering Managers because of the brief overlap of the two positions. Even though both roles involve organizational skills, they focus on two distinct areas of responsibility. While the Engineering Manager is responsible for the organization's human side: career planning, hiring, team productivity, the Tech Lead's attention is focused on System improvements like tech excellence and innovation, development process, code reviews, and feedback.
At Waydev, we understand that the two positions share some responsibilities like measuring and reporting the effectiveness of the development process, analyzing team member performance, or even shuffling your sleeves and getting some coding done from time to time. That's why our platform enables both to accelerate velocity and align with business priorities specific to each role while encouraging collaboration.
Assessing performance is crucial for every development project, and that's why the platform we created focuses on helping managers see in real-time what their team is working on, what roadblocks they are experiencing, and where they are making progress. Moreover, our solutions give Tech Leads a comprehensive overview of commit, PR,ticket, and CI/CD activities to analyze projects and see what can be done better and more efficiently.
In this article, we will clearly define what a technical leader does nowadays, what the position's responsibilities are, and what they can do to improve their strategies and bring added value to the bottom line.
What is a Tech Lead, and how do they fit in development team structures nowadays?
Many agree that Technical Leaders coordinate the tech departments fostering the collaboration of members to benefit organizations.
On the basis, Tech Leads are software engineers who watch over the quality of the software development team's work and ensure the success of the delivered solutions. The Tech Lead role requires professionals who understand software development and collaborate closely with the DevOps and the Project Manager.
They manage the development team, set the technical approach, decide on the programming languages, create frameworks, optimize software delivery performance, and adopt the right tools to increase team productivity. On top of the technical skills layer, a Tech Lead must also demonstrate exemplary leadership and collaboration skills. If required, the Tech Lead can step up and act as an Engineering Manager, and vice versa.
The position could be the first step from software developer to Engineering Manager for those interested in management. The role is a bit of a hybrid, as you can still do the technical work: coding, debugging, and other fun stuff while getting the chance to manage a small team of engineers (usually 2 or 3 people). As a Tech Lead, your role would define the technical vision and deploy it together with the rest of the engineering team.
The technical lead job description might sound different, from one company to another, but some things remain constant. The tech lead's responsibilities include planning, designing, leading, and executing technical solutions and improvements.
Here are the main aspects that are part of any Tech Lead job description:
Setting up frameworks of standards and procedures.
When it comes to Tech Lead responsibilities, it all starts with understanding the project's time frame, team, and resources, the level of complexity, and risk. Taking into account all these and previous project experiences and results, the Tech Lead defines, explains best practices, and sets up frameworks of standards and procedures that are presented to the team and implemented.
Waydev's Project Timeline gives Tech Leads a clear view of how the volume of work and team's focus evolve, helping them define technical vision. This view is achieved by visualizing trends during sprints or over the week, month, and other custom time frames.
With a clear plan and structure, technical leads can allocate time to the tasks where their expertise makes a difference.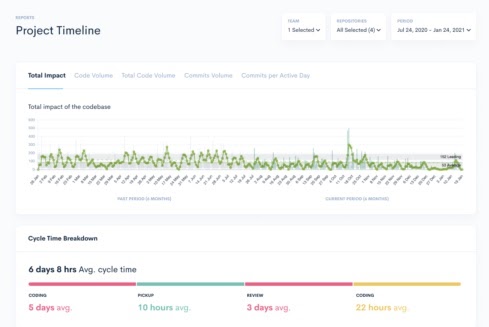 Setting the project's technical direction.
Tech leads have a significant role in determining technical success. Another tech lead responsibility includes setting technical aspects for each project, like the programming languages used and the tools required for project completion.
A good tech lead participates in building solutions for performance optimization. They collaborate with infrastructure professionals to understand network and hardware changes and, thus, adapt their strategies. They also work with other tech leads to ensure that the systems they build fit in the company's ecosystem and be supported in the future.
Conducting detailed assessments to make the right decisions
During development processes, situations often arise, creating blockages. Tech Leads need to facilitate the quick, efficient resolution of such cases by guiding the team and bringing developers back on track. With Waydev's data-driven engineering management solution, Tech Leads can correctly assess what is happening without manual input from engineers.
Since they know precisely what the team is doing, team leads play an essential part in prioritizing activities. They are the ones who decide what engineering metrics matter, like the technical debts developers focus on, what requires refactoring, and whether the team may implement new features.

Team building
Tech leaders build teams both literally and figuratively. They are in charge of identifying the technical professionals that match the company ecosystem in terms of personalities and expertise, attributing roles and training them.
Once team members know what to do, it is time for tech leads to focus on delivering value. Each team needs a technical vision to which all members aspire. Moreover, fostering good relationships between members and communications are also key pillars of good team building.
Successful team leads dedicate time to their team, organize virtual and physical relaxed and solution-oriented meetings, and appreciate members' inputs and involvement.
​Motivating the team
Empowered teams are motivated teams. A good tech lead acknowledges hard work, discipline, and talent and fosters freedom and creative thinking culture. These professionals welcome ideas and treat each proposal respectfully, explaining the PROs and CONs of making a particular choice.
Team leads not only make decisions but also communicate them to those involved.
Tracking progress
Tech leads should continuously track the progress of their team's projects and all tasks related to them. This way, it may identify and mitigate risks, increase members' productivity levels and ensure that they may, at all times, keep business structures and Project Managers updated on the work status.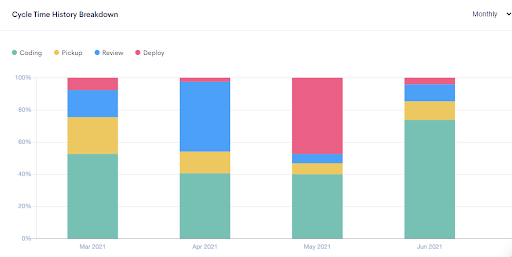 Compiling reports and working with other Tech Lead and Engineering Managers
Tech leads are responsible for analyzing data and generating detailed reports which focus on relevant development metrics and KPIs, focusing on the accomplished, planned, and blocked tasks.
Software delivery, code reviews and Technical Capacity Planning responsibilities of a Tech Lead.
For software development, tech leaders have a clear objective: to optimize software delivery performance by defining and measuring KPIs to identify improvement opportunities.
While all tech leads agree that monitoring metrics is crucial, many have difficulty deciding what to keep track of and how to receive relevant results.
Waydev connects to your engineering toolstack and aggregates data in real-time. Then we create more than 60 metrics that look into PR Activity, Code Activity, CI/CD Activity, and Calendar Activity.
Valuable insights into these activities enable you to move from a feeling-driven to a data-driven leadership approach and analyze metrics that matter.
CI/CD Activity Metrics Monitoring
DORA, which stands for DevOps Research and Assessment, has grown into an industry standard for efficient software delivery and monitoring improvement.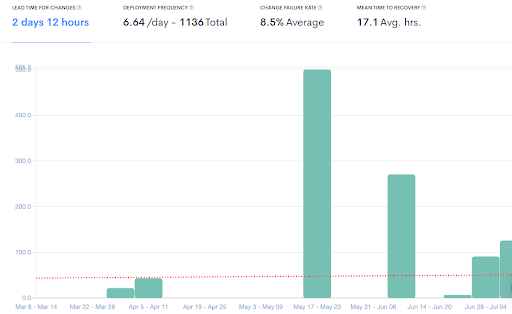 The methodology helps Tech Leads assess software delivery throughput (velocity) and code stability (quality) by measuring four key metrics:
Deployment frequency(DF)
Meantime to recovery (MTTR)
Lead time to change (LTTC)
Change Failure Rate (CFR).
Velocity and quality are not the only KPIs that a Tech Lead must track. Providing a clear architectural and design direction, controlling technical debt, and ensuring code review effectiveness are also essential points.
PR Activity Metrics Monitoring
Lead Time: The time between the developer's first PR and when it's merged or closed. Lead Time can be tracked for each repository or all of them together.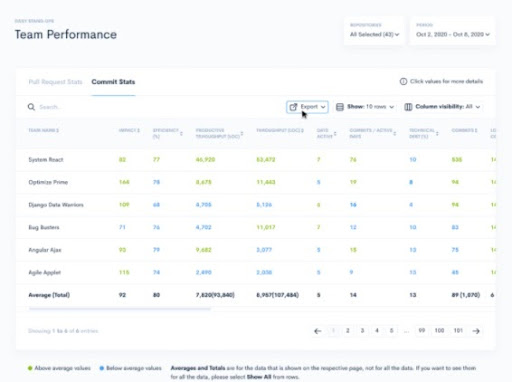 As a Tech Lead, it is your responsibility to assess PR Lead Time over time, so that you may identify trends and behaviors, start investigations and act before things escalate.
Review Collaboration: These metrics show collaboration statistics between PR submitters and reviewers. Tech Leads will get a clear view over: responsiveness, comments addressed, receptiveness and unreviewed PRs.
Code Activity Metrics Monitoring
New work. Analyzing this performance metric, Tech Leads get to know exactly how much new code was written by each software development team member.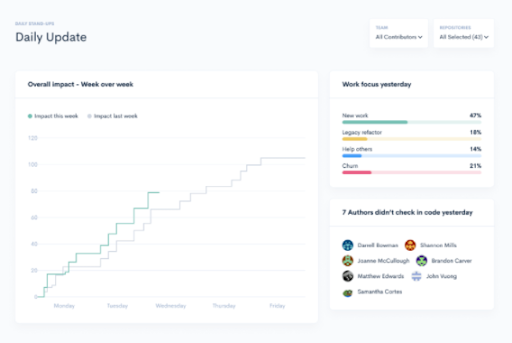 Churn is also a performance metric Tech Leads need to track to see how efficient their team's work is. Code churn happens when a developer re-writes their code within three weeks of being committed.
Legacy Refactoring. By analyzing this metric, a Tech Lead can picture how well their team members collaborate. The metric measures the amount of code that has been re-written without changing or adding to the software's external behavior and functionality.
A Tech Lead's data-driven Agile engineering management approach
In Agile environments, Technical Leaders focus on delegating authority and fostering self-organization among team members to create added value for the project. They also solve roadblocks and issues when the team can't see a way out.
Moreover, a good Tech Lead will act as a buffer zone between stakeholders and team members, enabling the former to focus on their actual deliverables.
A tech Lead's job is not easy, but with Waydev on your tool belt, you can implement data-driven Agile methodology seamlessly. Get real-time insights on how teams work together and how individual members perform, what they are doing, where they are stuck. Best of all: This is all done automatically, giving team members the freedom to focus on their work.
If you want to test how Waydev's solutions help Tech Leaders fulfill their responsibilities, get in touch with us for a demo.