Gitprime has got quite a buzz. With $10.5 million in funding, it might be the most popular software development analytics tool. Gitprime, renamed to Pluralsight Flow after the acquisition (ex GitPrime alternatives), analyzes a team's codebase to quantify engineering progress. For example, GitPrime can identify engineers who are stuck or bogged down with refactoring and quantify the amount of effort spent paying down technical debt.
There's nothing to set up and no change in workflow. Pluralsight Flow (ex GitPrime) provides analysis on your codebase to highlight work patterns, identify team and developer-specific areas for improvement, and offer concrete data to stakeholders on engineering progress.
However, Pluralsight Flow (ex GitPrime) has gained a lot of competitors over the years, that offer highly competitive features and packages. Since Gitprime's price tag ($599+) is quite high, many engineering leaders look for alternative tools that deliver more affordable solutions. So, who breathes down Gitprime's neck? Let's find out.
Waydev
Codacy
Code Climate Velocity
SonarQube
Gitalytics
Waydev
Waydev is the leading Development Analytics tool that helps engineering managers gain better visibility into their software development team. Waydev focuses on increasing team productivity and helps managers become data-driven.
Waydev named as High Performer in G2 grid for Development Analytics tools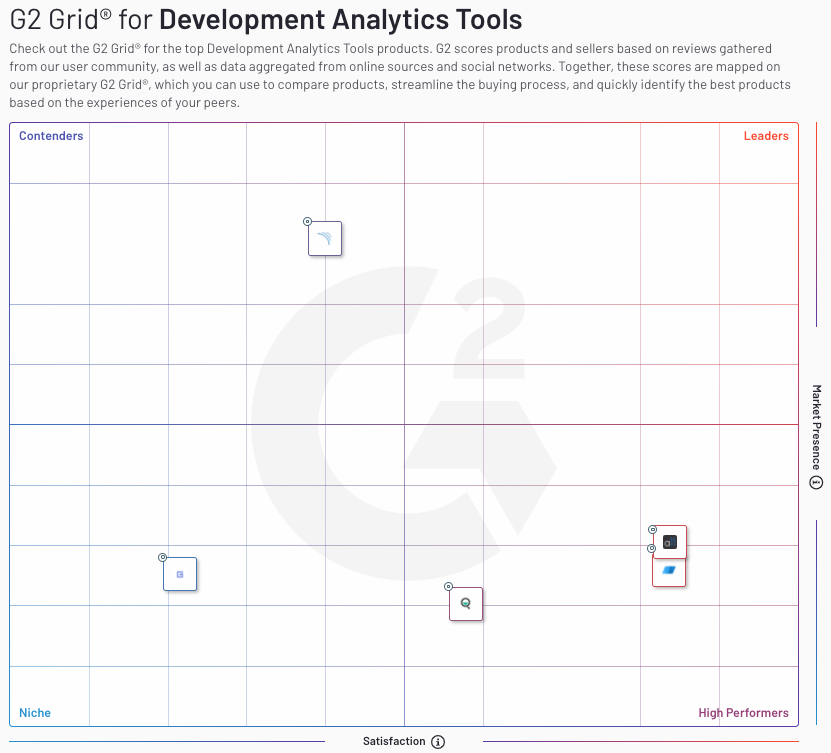 Waydev, the leading Development Analytics solution, has achieved the High Performer ranking in the Winter 2020 Grid® Report for Development Analytics tools. The company's ranking is based on real user feedback to specific search-related questions featured in the G2 review form. G2 defines Development Analytics tools as tools that provide high-level insights into development progress using historical data.
The majority of the software development reports are related to manual input from engineers. Waydev generates real-time reports and insights for engineering managers, without any input from the engineers. Waydev provides value with concrete metrics for daily stand-ups, 1-to-1 meetings, code review workflow, monthly/quarter reports, and benchmarking. Here is a demo video.
If you compare Waydev to Gitprime, you need to take into consideration what they offer:
3X speed in releasing new features (check out on their blog)
Direct access & support from the founders
Features like Dashboard, Time Card, Developer Summary ,and Weekly Reports
Pull requests activity overview
Compare teams and engineers
Unlimited teams & Unlimited users
GitLab, GitHub, Bitbucket, Azure DevOps, and Jira integrations
The possibility to pay per active engineer
Flexible pricing plan
On-premise installation
SAML Single Sign-on
API integration
We want you to use Waydev because you're happy with the service, not because you signed a contract. You can cancel anytime within 30 days from the purchase and we will provide a refund for the remaining unelapsed full months. Request a free 30-day trial in the cloud or on-premise now.
Codacy
Codacy is an automated code analysis/quality tool that helps developers ship better software, faster. With Codacy, you get static analysis, cyclomatic complexity, duplication, and code unit test coverage changes in every commit and pull request.
You can use Codacy to enforce your code quality standard, save time in code reviews, enforce security best practices, and onboard developers faster. Integrate with your GitHub repositories to get quality analysis of every pull request inside GitHub.
Integrated into your workflow
Codacy adapts to your code review process, pushing results as comments in your pull requests and commits into your workflow in GitHub.
Track your quality evolution
Get a code quality glance at your project and track its quality evolution over time, easily paying back your technical debt.
Multilanguage
With over 20 languages supported Codacy covers all your project needs. If you're already using a code linter you'll feel right at home as we probably support it.
Code coverage
With included code coverage integrated with your CI, Codacy will help you manage your project quality needs and help you pass from 10% to 80%.
Quality settings
You can define quality settings for your pull requests and commits that act as thresholds for your work.
Security checks
Our Security Dashboard quickly shows alerts from running hundreds of security analysis checks in your project.
Code Climate Velocity
Code Climate provides technical debt assessments and style checks in every pull request so that engineering teams only merges clear, maintainable, and well-tested code.
Get test coverage right, every time
View line-by-line test coverage data within diffs. See coverage on new lines of code in pull requests and avoid regressions by never merging insufficiently tested code.
Win the fight against technical debt
Their 10-point technical debt inspection flags maintainability issues relating to duplication, complexity, and structure before they're merged.

Remove the pain from code review
Automatically enforce coding style and standards on every pull request. Raise awareness about code quality and focus conversations on what matters.

Identify hot spots
Correlate code quality information against areas of high churn so managers can focus their efforts on files with inadequate coverage or maintainability issues.

We work where you work
Their command-line interface (CLI) lets engineering teams run the exact same analysis locally, reducing the feedback loop during the development process.
SonarQube
SonarQube with static analysis of code to detect bugs, code smells, and security vulnerabilities on 20+ programming languages including Java, C#, JavaScript, TypeScript, C/C++, COBOL, and more. SonarQube is the only product on the market that supports a leak approach as a practice to code quality.
Back in 2007, when the first lines of code were created, the founders of SonarQube (originally called Sonar) had a dream to one day provide every developer the ability to measure the code quality of his projects. Their motto: "Continuous Inspection must become mainstream as Continuous Integration".
To make this dream come true, they invested all their time and energy into developing SonarQube as an open-source product, working closely with the community. Today SonarQube is used by more than 85,000 organizations that in return provide regular feedback and contributions.
Fully integrated with DevOps toolchains, it comes with:
Built-in integration with most build tools, which enables in most cases a no configuration approach
Easy integration with continuous integration engines such as Jenkins, Azure DevOps, TeamCity, Bamboo, and more
Support for numerous source configuration management tools such as Git, Subversion, CVS, Mercurial
Gitalytics
Gitalytics's build environment provides a powerful platform that translates thousands of data points from GitHub, Gitlab, or BitBucket repos, code reviews, pull requests and tickets into easy to understand and use metrics.
Support for many open-source tools built-in
Gitalytics has built-in wrappers for many open-source tools, but also supports any other tools that produce output in a supported format like the common checkstyle format.
Deeper analysis with Gitalytics's own analysis
Gitalytics also provides own analysis software for selected languages which run a deep data flow analysis on your projects that is also powering our Code Intelligence product.
A framework for filtering false-positives
Keeping false-positives at a low level is important for continuous use and developer adoption. Scrutinizer allows you to filter not only specific issues, but also similar issues from future inspections.
Conclusions
Development analytics tools definitely have the momentum in the product development space. Gitprime is currently in the spotlight, but there are many tools striving to beat it and serve users even better.